Find out which ingredients go deliciously well with Brussels sprouts.
Brussels sprouts have probably popped up on your dinner table since childhood. They taste delicious with just a simple seasoning of salt and pepper and anyone can cook them easily. However you're not just any cook are you?
No, you certainly are not.
You want to push the envelope and create Brussels sprout dishes that wow everyone sitting at your dinner table. That's why we've prepared a list of mix-ins for your Brussels sprouts to take them from boring to spectacular. Your guests will be begging for seconds. It's time to get creative!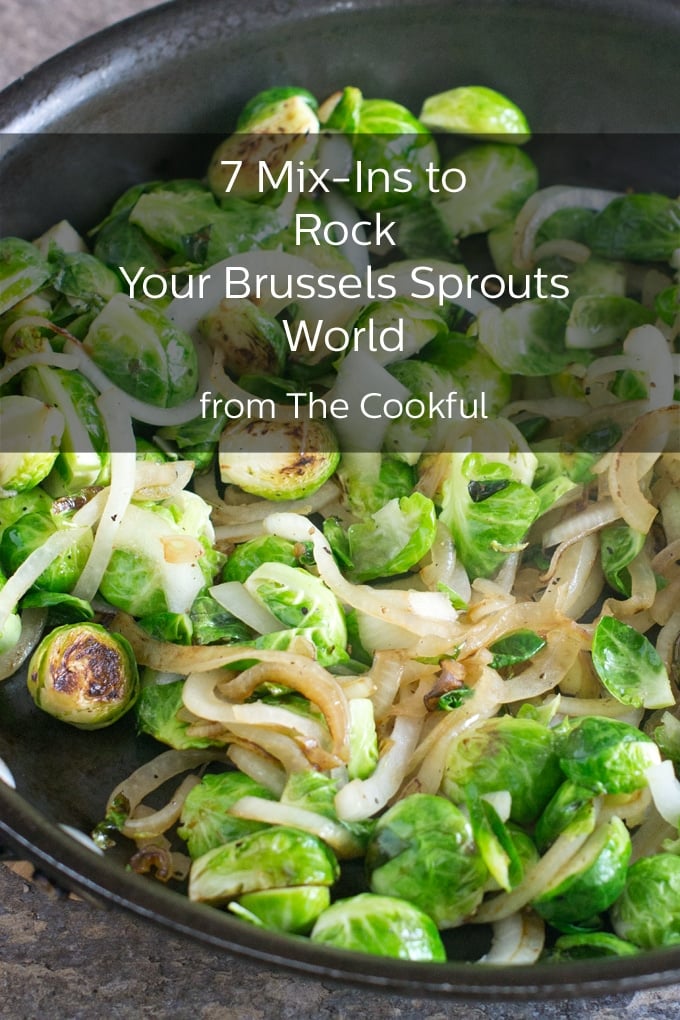 What Goes With Brussels Sprouts?
1. A Bit of Pork
Bacon makes everything better, right? And this can be said about any pork product. Grab some bacon, pancetta, or prosciutto. A little bit stirred into piping hot Brussels sprouts and you'll be yearning for that first bite. If you want to get really into it, reserve a little bacon fat and add that as well. Try it out with our Brussels Sprouts with Bacon & Peaches recipe.
2. Balsamic Vinegar
Dressing Brussels sprouts with a coat of balsamic vinegar will bring an extra zing to the vegetables. For a sweeter option, reduce approximately ½ cup of balsamic vinegar over medium-high heat until it's thick and syrupy. Stir in 1 teaspoon of brown sugar before pouring it over the sprouts.
3. Fresh Herbs
Basil, chives, dill, flat-leaf parsley, and thyme all pair wonderfully with Brussels sprouts, bringing a punch of freshness to liven up the dish. Either roast or steam the sprouts and then sprinkle generously with your herbs of choice.
4. Cheese
Stir in a little Parmesan, pecorino, blue cheese, Cheddar, creamy goat cheese, ricotta, or even small chunks of Brie as a finishing touch. Just remember that a little bit can go a long way, though we won't judge you for going overboard. Here's a Roasted Brussels Sprouts Gratin with Cheddar in the mix. So seriously good.
5. Nuts
Adding a crunchy element to Brussels sprouts can make your sprouts pop. Chop up some almonds, chestnuts, hazelnuts, or pecans and sprinkle them on top. Here's a recipe that uses shredded raw sprouts with citrus and pecans to make a winter slaw.
6. Lemon juice
Much like balsamic vinegar, lemon juice brings an acidic element to savory Brussels sprouts. The citrus juice when paired with a dash of salt and pepper transforms the sprouts into a bright, dynamic side dish.
7. Sautéed onions or shallots
Give Brussels sprouts an extra layer of flavor by stirring in some sautéed onions or shallots. You can stir them in after you've cooked the Brussels sprouts or you can cook them up all together in one pan.
More Brussels Sprouts Inspiration
Try these flavor combinations to really wow your friends (and yourself!):
Brussels sprouts, bacon, shallots, white wine vinegar
Brussels sprouts, pancetta, balsamic vinegar reduction, basil
Brussels sprouts, apples, lemon, thyme
Brussels sprouts, basil, Parmesan, olive oil
What's your favorite thing to stir into Brussels sprouts?
This post originally appeared in November 2015 and was revised and republished in October 2022.