Brussels Sprouts with Peaches and Bacon
Convert all Brussels-sprouts-phobic people in the world by adding some sweet and fatty sass to Brussels sprouts.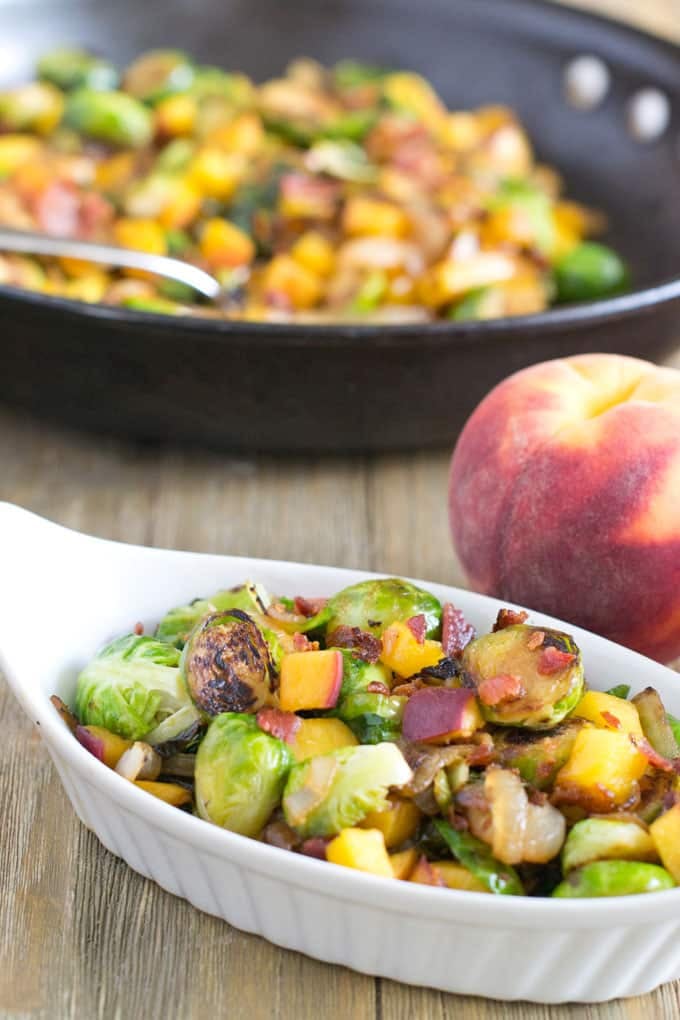 Sautéing is one of my favorite ways to cook Brussels sprouts. You get a browned exterior in places and an al dente center. I really wanted this recipe to be loved by sprouts-lovers and non-sprouts-lovers alike. How on earth to do that?
I added fat in the form of bacon and sweetness from peaches and maple syrup. The fat and the sweet help to curb the bitterness of the sprouts without masking their cabbage flavor. Try this recipe out on your Brussels-sprouts-phobic friends and let me know what they think.
Brussels Sprouts with Peaches and Bacon
Yield: Serves 6
Prep Time: 10 Minutes
Cook Time: 15 Minutes
Total Time: 25 Minutes
Ingredients:
6 slices bacon
1 medium sweet onion, sliced
1 lb. Brussels sprouts, trimmed and halved
Salt
Coarse black pepper
2 peaches, chopped
2 Tbsp. maple syrup
1 tsp. lemon juice
Directions:
In a large frying pan cook the bacon over medium heat until crispy. Remove from heat. Transfer bacon to a plate and discard all but one tablespoon of the fat.
Put pan with bacon fat over medium-high heat. Add the onion, Brussels sprouts, ¼ teaspoon salt and 1/8 teaspoon coarse black pepper. Cook stirring occasionally until sprouts are browning in places and becoming tender, 8-10 minutes. Meanwhile, chop the bacon.
To the browned sprouts add the peaches, bacon and maple syrup. Stir continuously until peaches are heated through, 1-2 minutes. Remove from heat. Add the lemon juice, a pinch or two of salt and a grind of black pepper. Stir gently.