I can't believe how amazing Brussels sprouts turn out in the air fryer. After just 10 minutes they're soft in the middle and brown and crunchy on the outside. Wow!
Just look at that picture! I swear, that was only after 10 minutes in the air fryer. The Brussels sprouts were perfectly cooked in the middle and the outsides were a deep brown and crunchy. I like mine really crisp like that. If you like them slightly less browned, after 7 minutes they are softened in the center and browned but a bit less so.
If you've been unsure about getting an air fryer, don't wait any longer. It will change your life. It's not just for foods that we think of as fried. It's for just about everything! Like broccoli! And carrots and green beans too! Now let's get cooking with those Brussels!
Video: Air Fryer Vegetables:
Preheat The Air Fryer
Get the air fryer preheating to 400°F. It doesn't take long to preheat, but note you'll likely be ready to add your Brussels sprouts to the air fryer before it's done preheating. That's totally fine. Get those sprouts in there as quickly as you can so you can move onto something else.
How To Choose Brussels Sprouts
These days my grocery store only has Brussels sprouts that come in a mesh bag so it's harder to select what I want for myself. If you have the choice, go for medium-to-small sprouts for the air fryer. The really big ones won't get soft in the middle before the outer leaves get too dark.
How To Prepare Brussels Sprouts For The Air Fryer
Whether your Brussels sprouts are small or medium, you'll want to trim them like this, and then cut them in half. The flat cut side gets a lot of good browning, and I like how the cut side looks once cooked, sort of like a rose.
As you're trimming them, remove and discard any leaves that are overly yellow or brown. Do keep any nice green leaves that fall off though. These should go right in with the sprouts. They will get crisp and brown. Move over, kale chips!
Put the trimmed and halved Brussels sprouts, and any nice leaves, into a medium bowl. Toss them with 2 teaspoons of cooking oil, ¼ teaspoon of salt, and 1/8 teaspoon of pepper.
Note that you could do the seasoning and tossing right in the air fryer basket instead of dirtying a bowl. However, I find that some of the oil and seasoning drops straight through the holes in the basket when I add it directly to the basket. Using a bowl ensures more of it adheres to the sprouts. But this is really not a huge deal. I'm just a perfectionist sometimes.
How To Cook Air Fryer Brussels Sprouts
Transfer the Brussels sprouts to the basket of your air fryer. Toss them around a bit to get it all into a single layer, or as much of a single layer as you can.
Slide the basket into the fryer. Cook for 7 minutes. No need to toss them or anything. Let them be!
After 7 minutes, have a look. If they're browned to the degree that you like, poke one with a fork (or just taste it!) to see if it's soft enough in the middle. If not, toss and then cook for another 2-3 minutes. I love them best when they look like this:
Transfer the Brussels sprouts from the basket of the air fryer to a serving bowl. If you'd like, sprinkle them with a pinch of coarse salt. This helps with some of the bitter flavor. Then eat!
Print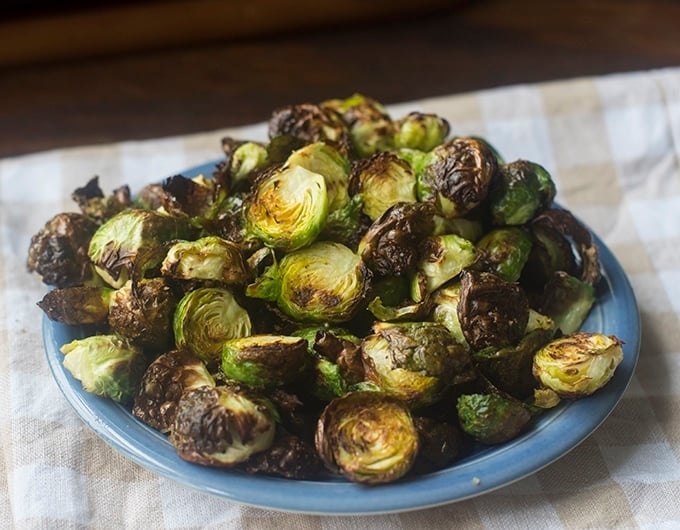 Air Fryer Brussels Sprouts
Contributor: Christine Pittman
I can't believe how amazing Brussels sprouts turn out in the air fryer. After just 10 minutes they're soft in the middle and brown and crunchy on the outside. Wow!
Author:

Prep Time:

7 Minutes

Cook Time:

8 Minutes

Total Time:

15 minutes

Yield:

4

Servings

1

x

Category:

Side Dish

Method:

Air Fryer

Cuisine:

American
1

lb

. small-to-medium Brussels sprouts, trimmed and cut in half

2 tsp

. cooking oil

1/4

tsp. salt

1/8

tsp. pepper
Preheat air fryer to 400°F.
Put the Brussels sprouts and any nice leaves that have fallen off into a medium bowl with the oil, salt, and pepper. Toss to coat.
Transfer to the air fryer basket. Toss to spread into a single layer.
Put basket into fryer.
Cook for 7 minutes. Have a look. If they're nice and brown, test one with a fork to make sure it's soft enough. If you'd like them softer or browner, cook for an additional 2-3 minutes.
Transfer to a serving plate.
This post originally appeared in January 2020 and was revised and republished in October 2022.