The air fryer is perfect for cooking whole mushrooms to use as a side dish for steak or to toss with pasta. They come out golden brown, softened, and full of juicy flavor.
I like my mushrooms to be browned but still juicy. Cooking them whole in the air fryer for 10 minutes does it perfectly.
If you've been thinking about getting an air fryer, don't wait any longer. It will change your life. Here's the one I have. Now let's get going on those mushrooms!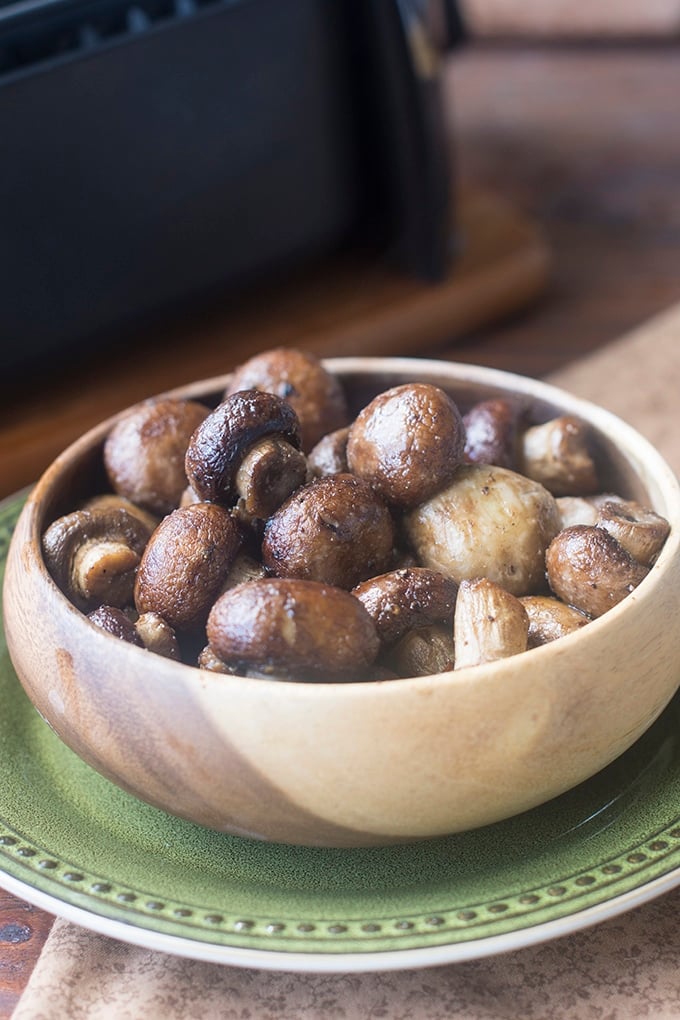 Here's A Video Showing Various Air Fryer Veggies:
Preheat The Air Fryer
Get the air fryer preheating to 400°F. It doesn't take long to preheat, but note you'll likely be ready to add your mushrooms to the air fryer before it's done preheating. That's totally fine. Get those mushrooms in there as quickly as you can so you can move onto something else.
What Kind Of Mushrooms Should You Use?
I got an 8 ounce container of whole brown mushrooms (cremini, also called baby bella) and 8 ounces of regular white button mushrooms (16 ounces total) and mixed them together. Honestly though, I'm not sure I could tell the difference. Just getting one kind is fine, and either kind works equally well.
I prefer whole mushrooms in the air fryer over sliced ones. I find that sliced mushrooms get brown but dried out in a chewy way in the air fryer. Whole ones brown on the outside but stay juicy in the middle.
If you want smaller bits of mushroom than whole, go ahead and halve or even quarter them. They'll still be plumper and juicier than sliced. And bonus, the cut sides offer extra surface area for a bit of caramelization.
Prepare The Mushrooms
Whole mushrooms have not been previously washed, but you don't want to rinse them with water. This makes them a bit soggy. Instead, dampen a paper towel with a bit of water and then use it to wipe the mushrooms clean.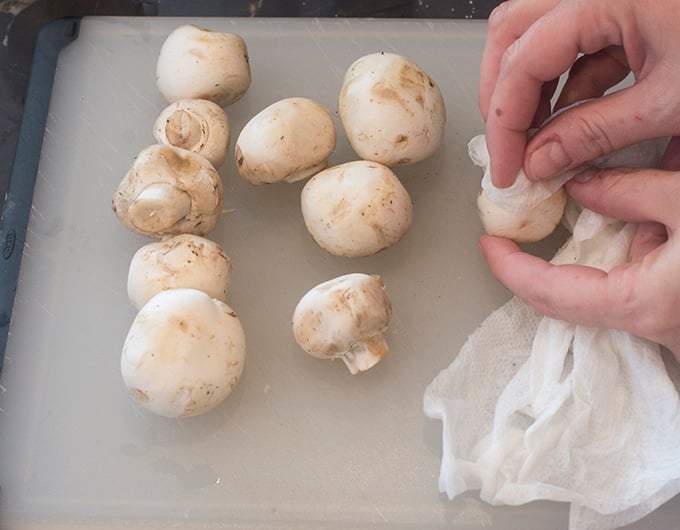 Put the mushrooms into a bowl and toss them with 2 tablespoons of cooking oil, 1/2 teaspoon of salt, 1/4 teaspoon of pepper, and 1/4 teaspoon of garlic powder.
Note that you could do this right in the air fryer basket instead of dirtying a bowl. However, I find that some of the oil and seasonings drop straight through the holes in the basket when I add it directly to the basket. Using a bowl ensures more of it adheres to the mushrooms. But this is really not a super big deal. I'm just a perfectionist sometimes.
I realize that two tablespoons may seem like a lot of oil, but the mushrooms really do soak it up. If you'd like to use less oil, use an oil mister like this or cooking spray and coat them fairly well. Then after they've cooked for 5 minutes, spray them again.
However, if you're using cooking spray, I hesitate to tell you to spray into your air fryer basket. Cooking spray is known to make non-stick surfaces get sticky over time. It would be best for your air fryer if you used the mister, or used the cooking oil in the bowl as instructed earlier.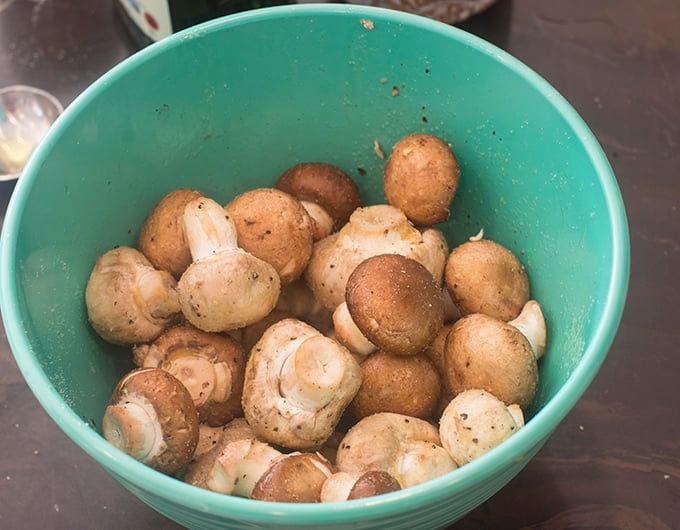 How To Cook Mushrooms In The Air Fryer
Transfer the mushrooms to the basket of your air fryer. Toss them around a bit to get them into a single layer, or as much of a single layer as you can.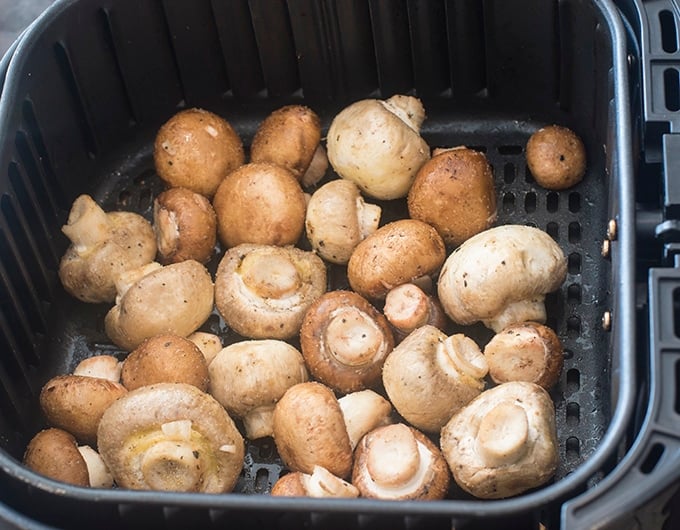 Slide the basket into the fryer. Cook for 5 minutes. Give them a toss and then cook for another 5 minutes. They'll be nicely browned but still plump, like in this picture: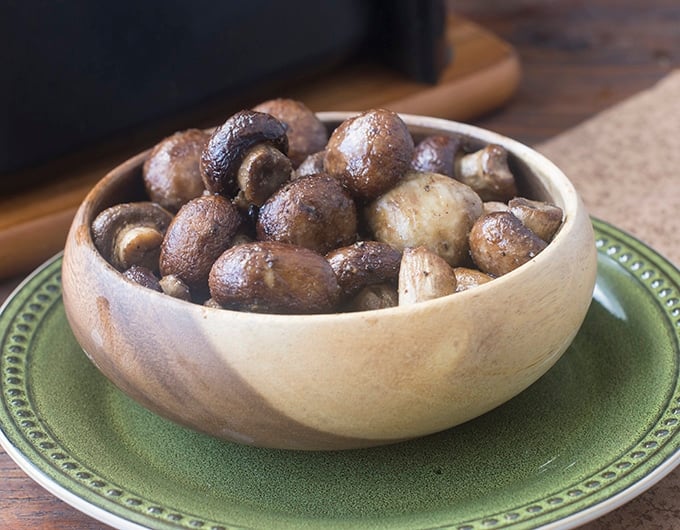 Enjoy!
Print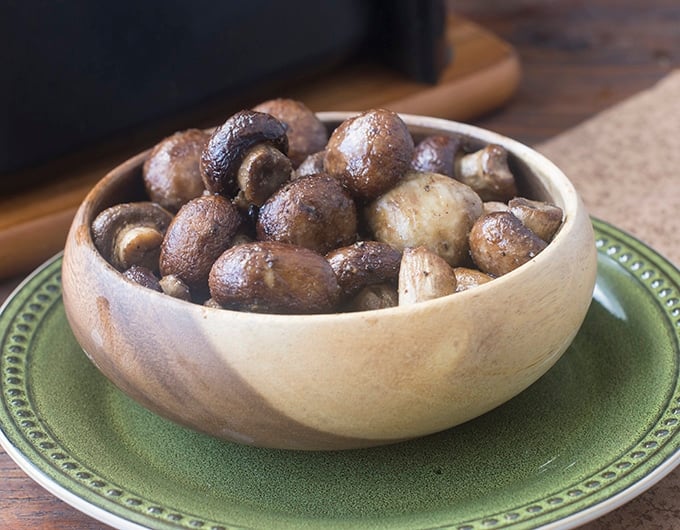 Air Fryer Mushrooms
Contributor: Christine Pittman
The air fryer is perfect for cooking whole mushrooms to use as a side dish for steak or to toss with pasta. They come out golden brown, softened, and full of juicy flavor.
Author:

Prep Time:

5 Minutes

Cook Time:

10 Minutes

Total Time:

15 minutes

Yield:

4

Servings

1

x

Category:

Side Dish

Method:

Air Fryer

Cuisine:

American
16

oz

. whole button or cremini mushrooms, wiped clean

2 Tbsp

. cooking oil

1/2

tsp. salt

1/4

tsp. pepper

1/4

tsp. garlic powder
Instructions
Preheat air fryer to 400°F.
Put the mushrooms into a medium bowl with the oil, salt, pepper, and garlic powder. Toss to coat.
Transfer mushrooms to the basket of the air fryer and toss so they're in a single layer. Put basket into fryer.
Cook for 5 minutes. Toss. Cook for another 5 minutes.
Transfer to a serving plate.