These Marinated Mushrooms are simple to prepare, full of flavor, and can be used in so many delicious ways.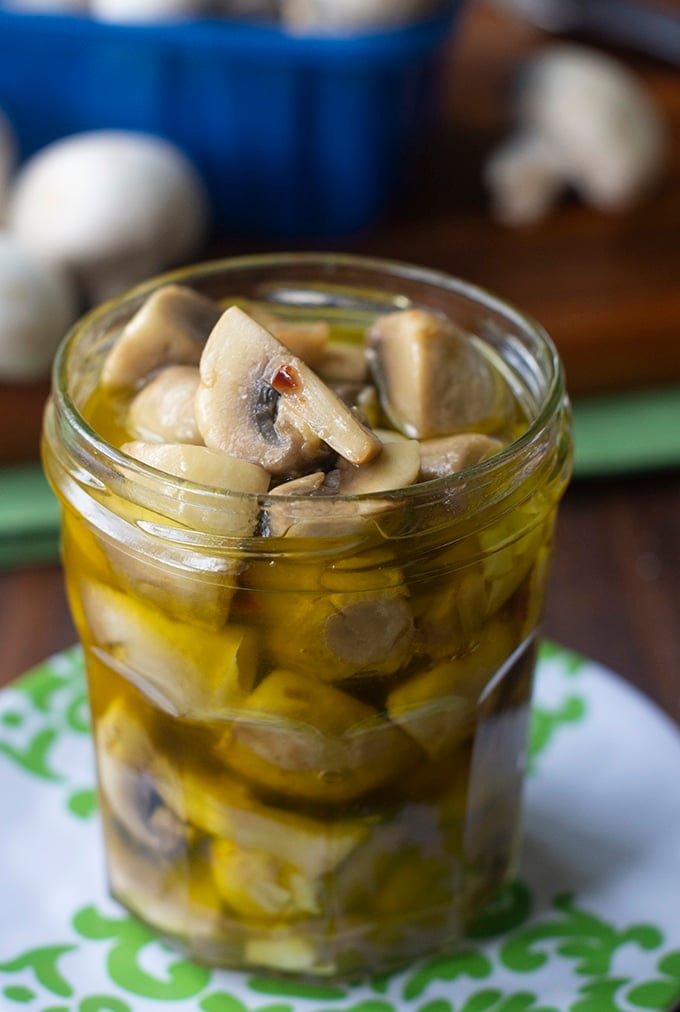 These marinated mushrooms are so delicious! Some methods have you pre-cook the mushrooms by sautéing or putting them in hot water, but I wanted to simplify things so these go right into your marinade mixture. I'm not a big fan of sweeter pickled or marinated foods, so I decided not to add sugar. If you are really into cornichons or bread and butter pickles, you may enjoy adding some sugar to the mix.
How to Make Marinated Mushrooms
Measure a cup of mild cooking oil into a medium pot. Grapeseed or vegetable oil work well here. If you want to use olive oil, I would suggest using half mild olive oil and half of one of the other more neutral oils. Add three cloves of garlic, sliced, and some red pepper flakes to the oil and allow them to steep over low heat for about five minutes.
Next, add 8 ounces of mushrooms. I've used button mushrooms here. If your mushrooms are small, you can add them whole, otherwise halve or quarter them. Increase the heat to high and stir for a minute, then take off the heat. This starts to cook the mushrooms, and the residual heat will continue the cooking process so don't worry that they aren't cooked through yet. Resist the urge to cook them further, because you want them to stay a bit firm so they don't end up slimy or mushy after days of marinating in the oil.
Add some salt and lemon juice and transfer to a large mason jar with lid. Next, you'll want to put it into the fridge for the temperature to come down. Once, the mushrooms are down to at least room temperature, you can give them a taste and add more salt if needed. Then back in the fridge where they will keep for up to a week.
Preparing Mushrooms for Use
I think these marinated mushrooms taste best when they've been in the fridge for a few days. The oil may congeal a bit at fridge temperature, but an easy fix for that is to microwave the jar (without the metal lid!) for 30 seconds, stir, and then another 30 seconds. Just long enough so that the oil is no longer thick and opaque. The mushrooms may warm up a bit but don't worry, it's not long enough for them to cook further.
To use, you can scoop the mushrooms out of the jar with a slotted spoon so you're not getting the excess oil. Or put a fine mesh sieve over a bowl and let the excess oil drain off the mushrooms for a few minutes. The oil has a great delicious flavor too though, so don't let it go to waste!
How to Serve Marinated Mushrooms
There are lots of wonderful uses for these mushrooms. They're great on charcuterie plates, served in a bowl alongside olives, and with cheese plates, especially with goat cheese. You can give the mushrooms a rough chop and spread them on toast, perhaps with a little grated Parmesan on top. Try them on top of salads or add them to pasta sauce in the last minutes of cooking. Even warm up the mushrooms with some of the oil marinade and toss that with cooked pasta. So tasty.
Print
Marinated Mushrooms
Contributor: Christine Pittman
These Marinated Mushrooms are simple to prepare, full of flavor, and can be used in so many delicious ways.
Author:

Prep Time:

5 minutes

Cook Time:

5 minutes

Total Time:

10 minutes

Yield:

4

servings

1

x

Category:

Appetizer

Method:

Stovetop

Cuisine:

American
8

oz

. button mushrooms

1

cup

mild-tasting olive oil

3

cloves garlic, sliced

1/4 tsp

. red pepper flakes
Salt

2 Tbsp

. lemon juice
Instructions
If mushrooms are small, leave them whole. Halve medium mushrooms and quarter larger ones. Set aside.
Measure oil into a medium-sized saucepan set over low heat.
Stir in the garlic and red pepper flakes. Allow to steep over low heat for 5 minutes.
Add the mushrooms. Stir. Increase heat to high and cook, stirring occasionally, for 1 minute. Remove from heat.
Stir in ½ teaspoon of salt and the lemon juice. Taste. The flavor won't be fully developed but if you want to add more salt, now is a good time. I add about another ¼ teaspoon of salt here.
Transfer to a large mason jar. Attach lid. Refrigerate.
They are best served after 3-4 days in the fridge and keep for up to 7 days in the fridge. If the oil has congealed, put the jar (without any metal) into the microwave uncovered for 30 seconds then stir. Do another 30 seconds if needed.
To serve, set a fine mesh sieve over a large bowl. Pour the mushrooms into the sieve and let them drain for a few minutes.* Transfer mushrooms to a small serving bowl or use in a recipe.
Notes
The excess oil has a delicious flavor. Store it in the refrigerator and use it within one week.