Pork Loin Injected with Apple Marinade
Take your marinating game up. Way up. Inject an apple cider marinade into a pork loin and prepare to be wowed.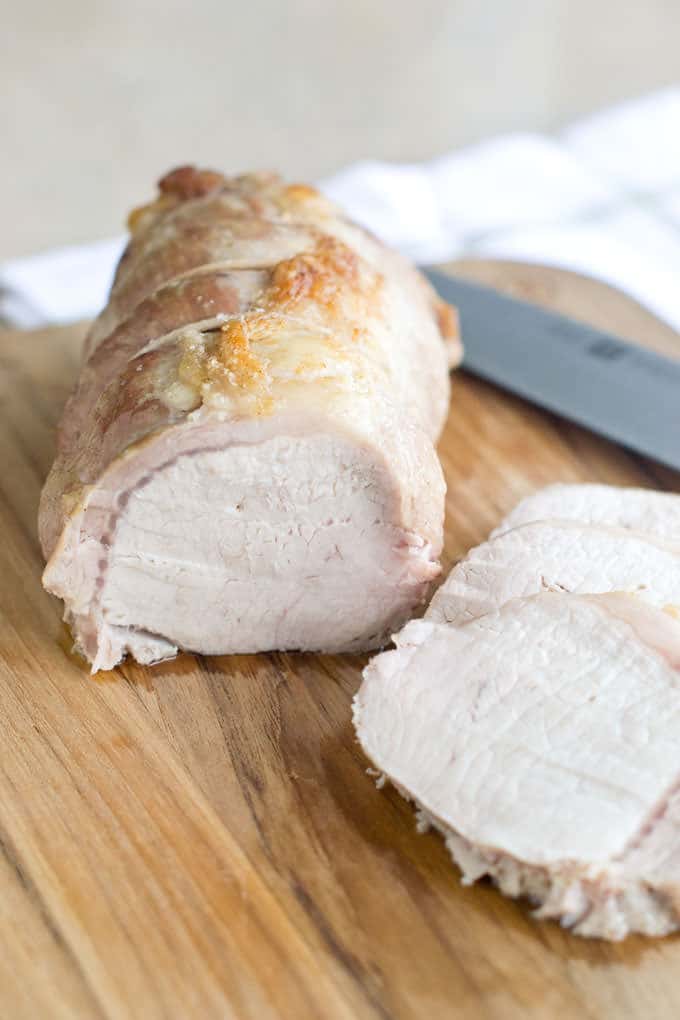 Generally speaking, marinades are great on larger pieces of meat. We explained why over here. Basically, marinades don't penetrate far beyond the surface of the meat so they don't work to tenderize or flavor very deeply.
Today's technique solves this problem. What you're going to do is inject the marinade into the meat. You mix up a marinade then pour it into a meat injector like this one. Inject the marinade in a bunch of places all over the roast. Then put it in a zip top plastic bag and let it marinate in the fridge for a couple of hours. That flavor is going to be all through the meat.
Roast it the way you normally would. Then eat it. Good, right?
Pork Loin Injected with Apple Cider Marinade
Yield: 4 servings
Prep Time: 10 minutes
Cook Time: 1 hour and 15 minutes
Total Time: 1 hour and 25 minutes
Ingredients:
1/3 cup vegetable oil
2 Tbsp. brown sugar
2 Tbsp. cider vinegar
1/2 tsp. allspice, ground
1/2 tsp. garlic powder
salt
2 lb. pork loin
Directions:
Whisk together vegetable oil, brown sugar, cider vinegar, allspice, garlic powder and 1/4 teaspoon salt. Pour into a meat injector.
Put pork loin onto a plate. Inject marinade into pork loin by inserting the injector in 8-10 different places and squeezing a bit into it each time. If any of hte marinade has spilled onto the plate, roll the loin around in it. Put loin in a plastic bag, seal and put in the refrigerator for 2 hours.
Preheat oven to 350⁰F. Put pork loin into baking dish, fat side up. Sprinkle with 1/2 teaspoon salt. Bake until meat reaches 145-155⁰F, about an hour. Let rest for 15 minutes. Slice and serve.