How To Cut a Fennel Bulb
Add some licorice-flavored crunch to your next salad by slicing up some fennel. Here's how! Our Knife Skills series is sponsored by Cutco. Since 1949, Cutco has been building memories in kitchens across America. Learn more at www.cutco.com.

Fennel is a great versatile vegetable to use in the fall and winter, but slicing it for a recipe can be kind of daunting given its unusual shape. Don't worry! It's super easy and will take you no time at all.
Step#1
Use a classic chef's knife  to cut off the green fronds close to the top of the bulb. Save the fronds, because you can chop up the wispy leaves to use as an herb in salads!

Step#2
Cut the bulb in half lengthwise.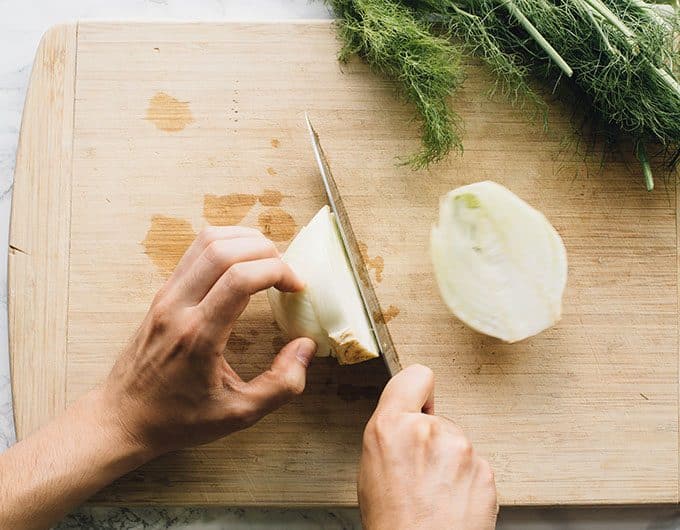 Step#3
Cut a wedge out of the base of the fennel bulb to remove the root and core of the bulb.

Step#4
Place the bulb cut side down on your board and slice the fennel crosswise or lengthwise, depending on what your recipe calls for. Here, we sliced the fennel crosswise in preparation for our Autumn Fennel & Orange Salad.

Print
Disclosure: This article is sponsored by Cutco. All opinions are ours and honest.