If you're looking for a flavorful main dish salad, this Greek Chicken Salad is perfect. It's full of delicious ingredients and a homemade dressing.
This Greek Chicken Salad makes for a wonderful dinner. Start by mixing up a quick Greek-inspired marinade for the chicken which also becomes our salad dressing. The chicken gets marinated and then grilled before going on top our beautiful salad. Finish with some feta cheese and an extra squeeze of lemon juice for your new favorite salad recipe.
Read more about preparing this chicken salad below or click here to head straight to the recipe.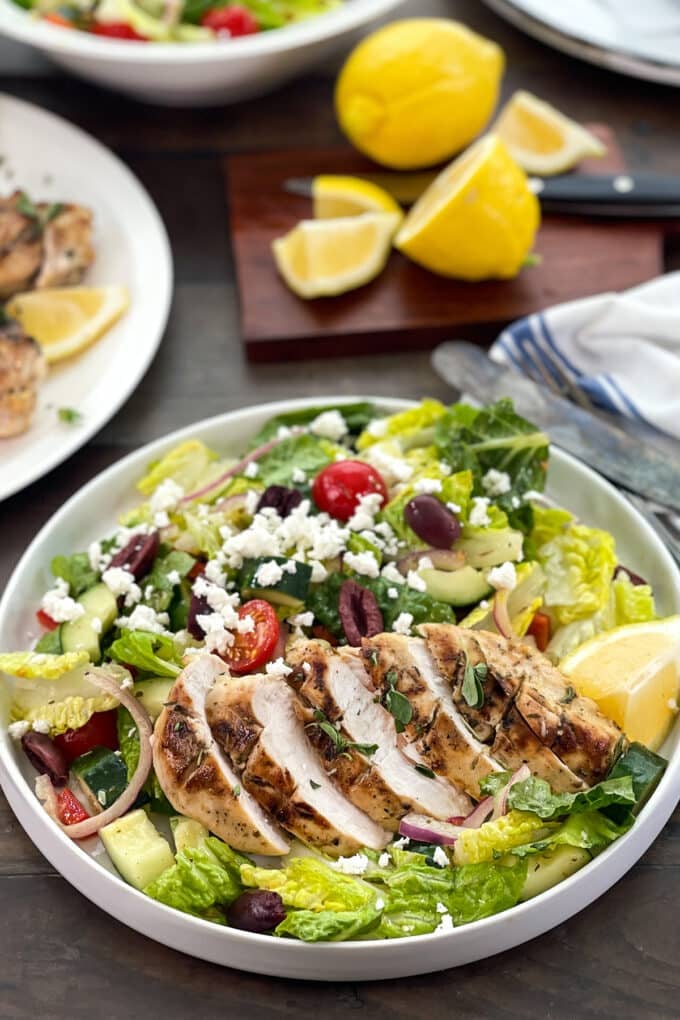 What Goes In A Greek Salad?
A classic Greek salad doesn't always have lettuce, but I really enjoy crispy Romaine lettuce, so I use that as my base. The essential ingredients are cucumber, tomatoes, bell pepper, onion, and olives. Cherry or grape tomatoes cut in half work great here. I like using red onion and red bell pepper, both for taste and for the extra pop of color. For the olives, look for pitted Kalamata olives. We're also going to top our Greek salad with delicious crumbled feta cheese.
The salad dressing is actually the chicken marinade that pulls double duty. Just make sure you're setting aside half of the marinade before putting the raw chicken in for food safety reasons.
How To Make Lettuce Extra Crispy
Here's a great tip you may not know about. It's what I do at home to make sure that my lettuce for salads is wonderfully crisp and cold.
Wash your lettuce in cold water and let it drain. Then, wrap the lettuce in paper towels and put it back in the fridge for at least an hour. By the time your chicken is marinated and grilled, the lettuce will be extra crispy for your amazing Greek salad. It's a little step that makes a big difference.
Marinating And Grilling Greek Chicken
To make the most of your marinade and infuse as much flavor as possible into the chicken breasts, I like to score the chicken before marinating. What does that mean? It means cutting cross-hatch marks into one side of the chicken so that you're creating extra surface area for the marinade to flavor. You can read more details and see a visual in my Greek Chicken Marinade recipe post.
Then, mix up the marinade that is full of fantastic ingredients like olive oil, Dijon mustard, fresh lemon juice and zest, red wine vinegar, garlic, and dried herbs. Half of this will be used to marinate the chicken for half an hour, the rest will be used as the salad dressing!
After the chicken has marinated, it's going on the grill to cook. Heat the grill to medium-high heat and grill the chicken breasts for 6-8 minutes on each side. You'll want to check the internal temperature with an instant read thermometer and cook till they reach 160°F in the thickest part. If you'd like a touch of sweetness, you can brush warm honey on the chicken before slicing.
Greek Salad Dressing Variations
I developed this chicken marinade so that it tastes great as a salad dressing as well without any adjustments. However, I love to test recipes and give you options, so if you'd like to switch it up, you can make one of these small adjustments so that the dressing is perfect for you.
Option 1: Add 2 tsp. honey to the reserved marinade for a sweeter dressing.
Option 2: Add 2 Tbsp. full fat Greek yogurt and salt to taste for a creamy Greek dressing.
Option 3: Add 2 tsp. of honey, 2 Tbsp. of Greek yogurt, and salt to taste for the best of both worlds.
Assembling Your Greek Chicken Salad
Add the chilled Romaine lettuce along with the prepared tomatoes, onion, cucumber, bell pepper, and olives to a large serving bowl. Toss with the dressing and top with crumbled feta cheese. Slice the grilled Greek chicken and add on top of the salad.
This definitely works as a main dish salad, but you could serve a light soup or fresh bread alongside if you'd like. Enjoy! – Christine xo
Print
Greek Chicken Salad Recipe
Contributor: Christine Pittman
The marinade makes a great salad dressing as-is, but check the post above for some easy variations.
Listen to learn how to make this recipe, along with some great tips from Christine:
Author:

Prep Time:

40 minutes

Rest Time:

10 minutes

Cook Time:

12 minutes

Total Time:

1 hour 2 minutes

Yield:

4

servings

1

x

Category:

Entrée

Method:

Grilled

Cuisine:

Greek
4

boneless, skinless chicken breasts

3/4 cup

olive oil

1 Tbsp

. Dijon mustard

1

lemon, zested and juiced

2 Tbsp

. red wine vinegar

2

garlic cloves, minced

1 tsp

. salt

1 tsp

. dried oregano

1/2 tsp

. dried thyme

1/4 cup

warm honey (optional)

2

heads Romaine lettuce, chopped

1/2 pint

cherry tomatoes, cut in half (about

15

tomatoes)

1/2

red onion, sliced thin

1

cucumber, seeded, chopped

1

red bell pepper, diced

10

pitted kalamata olives, cut in half lengthwise

1 cup

feta cheese crumbles
Score chicken breasts on one side with hash marks, about ⅛-inch deep and ½-inch apart. Set aside.

In a medium non-porous bowl, like glass, ceramic, or stainless steel, whisk together the olive oil, mustard, lemon zest and juice, vinegar, garlic, salt, oregano, and thyme until well blended. Transfer half of marinade/dressing to a glass measuring cup; set aside.

Add chicken to the bowl with the marinade/dressing. Submerge chicken, let stand 30 minutes, redistributing the chicken halfway through.

Meanwhile, add the Romaine, tomatoes, onion, cucumber, bell pepper, and olives to a large serving bowl. Cover and refrigerate until ready to serve.

Preheat grill to medium-high. Add chicken, cook 6 to 8 minutes each side or until chicken registers 160°F on an instant-read thermometer inserted into the thickest part of the breast.

Remove chicken from grill. Let stand 10 minutes. If desired, brush chicken with warm honey before slicing.

Remove salad from refrigerator. Toss with reserved dressing, top with feta. Slice chicken, add to salad.
Love this recipe? I'd appreciate it if you could scroll down and add a *5 star rating* to help others know they'll love it as well!