Lamb chops are a tender, flavorful cut of meat that cook up quickly on the stove or the grill, making them perfect weeknight fare. In this recipe, we serve grilled lamb chops with a fresh, herbaceous herb pesto that comes together in just minutes in the food processor.
Which Kind Of Lamb Chops Should You Buy?
There are two different kinds of lamb chops, which can be a little confusing. Lamb loin chops, which are sometimes known as t-bone chops, are the ones we are talking about today. Cut from the saddle or loin of the lamb, these bone-in chops look like a miniature t-bone steak and are made up of two small muscles, the short loin and the tenderloin.
The other kind of lamb chops, lamb rib chops, come from the rack and have a long, thin bone on one side. Sometimes these are known as lamb lollipops because you can hold the bone like a stick and eat the chop right off the bone.
Lamb loin chops are definitely best eaten with a fork and knife. But that doesn't mean that they are any less delicious. In fact, lamb loin chops are among the most prized cuts of lamb and often thought of as pricey restaurant fare. But, in fact, they are very easy to cook at home, which is a lot more convenient and economical.
When shopping for lamb chops, allow for 2 to 3 chops per person depending on the size. (Typically, butchers recommend a half-pound of meat per person.) Overcooked lamb is tough and tasteless, so you do not want to buy lamb chops that are too thin and may cook too quickly. Look for chops that are at least 1-inch thick.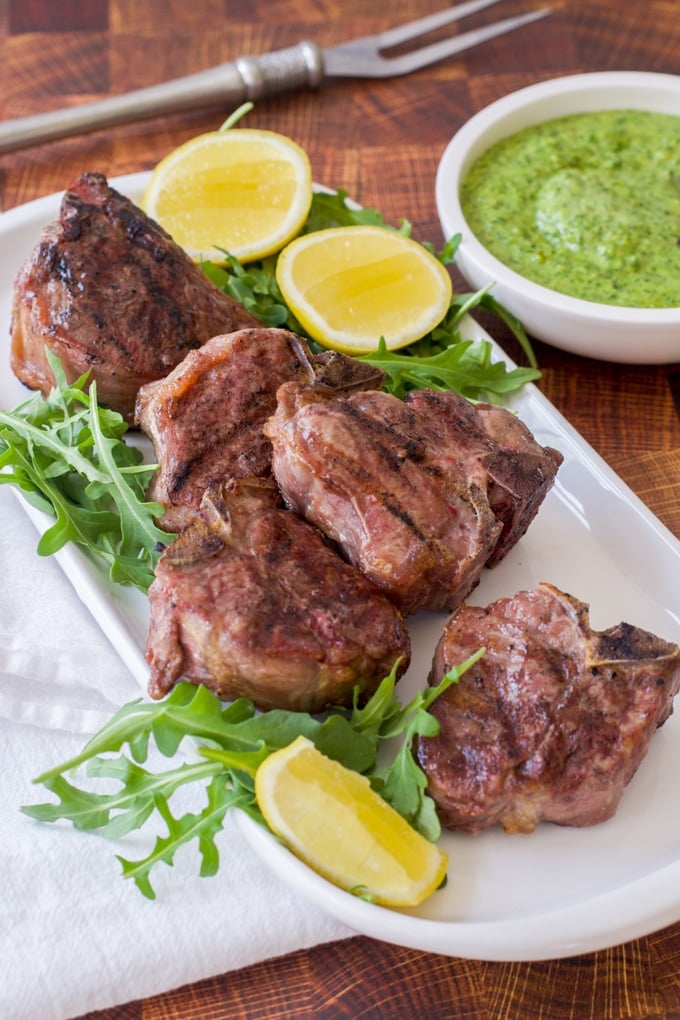 How To Dry-Brine
Prior to cooking, I like to dry-brine lamb chops by salting them and allowing them to sit in the refrigerator for at least an hour. This will ensure better browning and a nice sear on the outside of the chops.
How To Pan-Sear
You can pan-sear lamb chops in a heavy skillet, such as a cast iron skillet, on the stove, which is convenient, and you can even use the drippings from the meat to whip up a quick pan sauce at the end. Just cook the chops in a lightly oiled, screaming hot skillet for 3 to 4 minutes, until there is a nice char on the bottom. Turn the chops over and repeat on the second side.
To add a pan sauce, reduce the heat to low, add some butter, aromatics, like chopped shallot or garlic, and herbs. Once the butter melts, use it to baste the chops and continue to cook until the internal temperature of the lamb reaches 125 to 130 degrees Fahrenheit. Allow the chops to rest for 5 minutes or so and then serve with the pan sauce drizzled over the meat.
How To Grill
As good as pan-seared lamb chops sound, my favorite way to cook lamb loin chops is on the grill because lamb tastes amazing with a bit of char on it. The technique for grilling lamb chops is similar to cooking a thick steak. You want to grill the chops on a very hot grill over direct heat. Turn the chops frequently and do not overcook them. Lamb chops are best at medium-rare so aim for an internal temperature of around 130 degrees Fahrenheit. This will take approximately 15 to 20 minutes depending on the thickness of the chops and the heat of the grill.
The only drawback with the grill is that you cannot use the drippings from the meat to create a pan sauce. So, instead, I serve these grilled lamb chops with a fresh, green herb pesto that I prepare in advance.
What Seasoning Should You Use?
The classic herb to pair with lamb is rosemary, but rosemary has a very strong, piney flavor. In other words, a little bit of rosemary goes a long way. Thus, I add peppery arugula to the pesto to mellow out the rosemary flavor. A little garlic, a little lemon juice to fix the bright green color, and a generous pour of extra-virgin olive oil round out the rest of the ingredients. I prefer not to add cheese to this pesto to let the bright herbs shine through. The whole thing comes together in just minutes in your food processor.
So, now that it is grilling season, be sure to add lamb loin chops to your outdoor cooking repertoire. I guarantee that these tender, juicy chops will become a staple in your house as they are in mine.
Print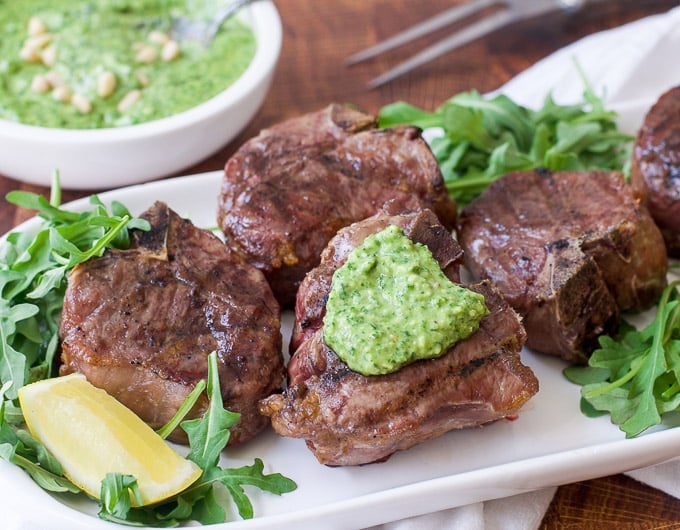 Grilled Lamb Chops with Rosemary-Arugula Pesto
Contributor: Emily Paster
Lamb chops are a tender, flavorful cut of meat that cook up quickly on the stove or the grill, making them perfect weeknight fare. In this recipe, we serve grilled lamb chops with a fresh, herbaceous herb pesto that comes together in just minutes in the food processor.
Author:

Prep Time:

15 minutes

Rest Time:

60 minutes

Cook Time:

30 minutes

Total Time:

1 hour 45 minutes

Yield:

4

servings

1

x
8

lamb loin chops, at least 1-inch thick (approx.

2

pounds)

1 tsp

. kosher salt, divided

½ tsp

. black pepper

6 Tbsp

. pine nuts

2 cups

baby arugula

¼ cup

rosemary leaves (stripped off the woody stems)

2 Tbsp

. lemon juice

1

garlic clove

½ cup

extra-virgin olive oil
Instructions
Trim any visible fat from the outside of the lamb chops. Sprinkle ¾ of a teaspoon of the salt and the pepper over the lamb chops and refrigerate them for at least one hour.
While you are dry-brining the lamb chops, make the rosemary-arugula pesto. Toast the pine nuts in a dry skillet set over medium heat for 2 to 3 minutes until lightly golden and fragrant. Set aside.
Combine the pine nuts, arugula, rosemary, lemon juice, garlic, and remaining ¼ teaspoon of salt in the bowl of a food processor. Pulse 15 to 20 times to break down the greens.
With the motor running, slowly pour the olive oil into the bowl of the food processor and process until the mixture has formed a smooth paste. Transfer pesto to a serving bowl and set aside.
Preheat the grill to high heat. Place the lamb chops over direct heat and grill with the cover open, turning frequently, until the internal temperature reaches 130 to 135° Fahrenheit on an instant-read thermometer (like this), 15 to 20 minutes*.
Allow the lamb chops to rest for 5 to 10 minutes and then serve immediately with rosemary-arugula pesto on the side.
Notes
*The temperature will continue to rise as the chops rest.