Lamb Stew is a simple yet hearty and filling dish that's best cooked nice and slow so the meat becomes tender and the flavors fully develop. Perfect for the weekend.
Lamb is a perfect meat for stewing, which explains why so many cuisines have a version of lamb stew. In India, they eat spicy Lamb Rogan Josh. Lamb tagine is a favorite in Morocco. And in France, you might see elegant Navarin of Lamb on the menu. This version of lamb stew hails from Ireland – where they eat a lot of lamb – and features spring vegetables like potatoes, carrots, and peas. A perfect dish for St. Patrick's Day…or any day!
You might be able to find lamb stew meat already trimmed and ready for cooking at your butcher, in which case you are all set to go. If you cannot find lamb stew meat, I suggest purchasing boneless leg of lamb and cutting that into pieces yourself.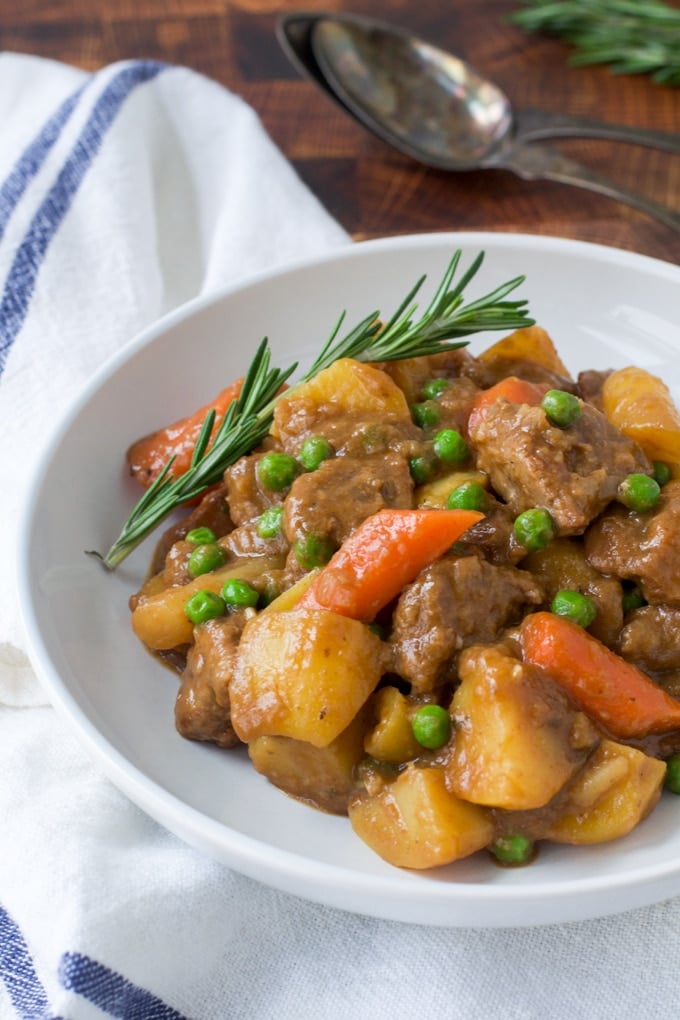 Why Use Boneless Leg Of Lamb?
First, this cut is readily available and is reasonably priced, especially when it is on sale. Second, because it is boneless, you will use almost all of it and you do not have to cut around the bones. You can also use lamb shoulder for stew, but it will take longer for it to become tender and it is not always available at the grocery store.
How To Prepare The Meat For Stewing
To prepare boneless leg of lamb for stewing, simply remove the mesh netting around the meat and unroll it. Trim off the cap of fat and begin cutting the meat into 2-inch pieces. Continue to remove excess fat as you go and do not worry if some of the pieces of meat end up being smaller than 2 inches. You don't want to waste any of the meat and it will all taste delicious in the end!
How To Season The Stew
The problem with stews is that they can sometimes be bland. Hearty and filling, yes, but not very flavorful. The way to counteract that is to build flavor as you go and to include ingredients with lots of umami. For our lamb stew, the ingredient that brings the umami is tomato paste. You won't taste the tomato, but adding this highly concentrated ingredient will make the stew taste especially savory and meaty.
For this dish, you start by dredging the lamb in seasoned flour and then browning it in a saucepan or Dutch oven. The flour will thicken the stew later on and browning the lamb adds flavor because of those little browned bits that form on the bottom of the pot.
Once you add the liquid, you'll want to scrape up those browned bits and stir them into the stew. This step is often called deglazing the pan. The browning step can be time-consuming – especially because you will need to work in batches to avoid crowding the pan – but it is so worth it for the flavor it adds.
For our stewing liquid, we use a combination of broth and a dark Irish stout, such as Guinness. We are definitely keeping it authentically Irish here! Stout has a reputation for being bitter, but the bitterness will cook out – as will the alcohol – and the final result will be a stew with incredible deep, rich flavor.
Like most such dishes, this stew can be made a day in advance and reheated on the stove prior to serving. In fact, I sometimes think stews taste better when I make them in advance. So, if you are planning to serve this for guests, consider making it the day before your party.
If you do make the stew in advance, do not add the peas until right before serving. You may also need to add some additional liquid when reheating if the stew has thickened in the refrigerator, which is normal.
You Can Also Use It As Meat Pie Filling.
For a really fun variation on this recipe, turn the stew into a meat pie. Simply prepare the stew as instructed. Once the stew is ready, let it cool and then transfer it to a deep pie plate.
Drape thawed frozen puff pastry over the stew. Press the edges of the pastry against the rim of the pie plate to seal it closed and make several cuts for venting. Brush the pastry with beaten egg for a nice glossy finish and bake the pie in a 400 degree Fahrenheit oven until the pastry is browned and crisp and the filling is bubbling, 35 to 45 minutes. Allow to cool slightly before slicing and serving. Lamb stew pie is true Irish pub fare.
Lamb stew may not be a quick weeknight dinner. But on those days – perhaps a Sunday or a snowy afternoon – when you have time to let a stew simmer away on the stove for an hour or so, this is exactly the kind of dish you should make. And believe me: the whole house will smell amazing while this stew is bubbling away.
Print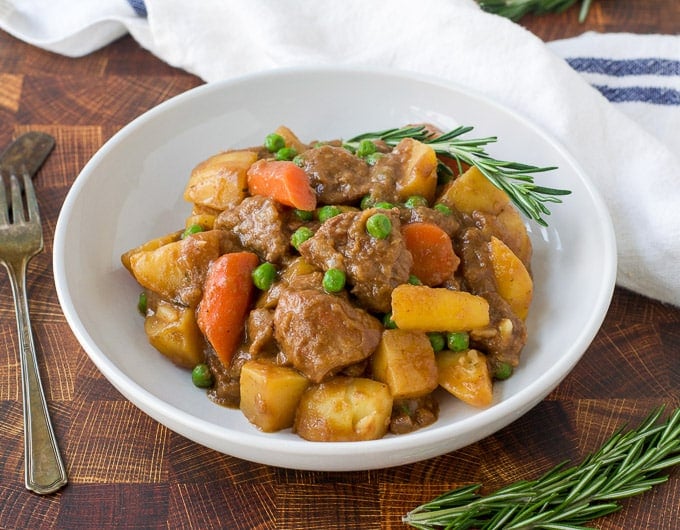 Irish Lamb Stew
Contributor: Emily Paster
Lamb Stew is a simple yet hearty and filling dish that's best cooked nice and slow so the meat becomes tender and the flavors fully develop.
Author:

Prep Time:

10 minutes

Cook Time:

2 hours

Total Time:

2 hours 10 minutes

Yield:

6

servings

1

x

Category:

Stew

Method:

Stove Top

Cuisine:

Irish
1/2

cup

all-purpose flour

2 tsp

. kosher salt, divided

1/2 tsp

. black pepper

2

lbs

. lamb stew meat*

3 Tbsp

. vegetable oil

1

yellow onion, diced

3

cloves garlic, minced

2 Tbsp

. tomato paste

1 tsp

. chopped fresh rosemary, plus more for garnish

1 tsp

. chopped fresh thyme

2

cups

Irish stout such as Guinness

1

cup

beef or chicken broth or water

1

bunch carrots with their tops on, peeled and cut into

2

-inch pieces

1

and 1/2

lbs

. waxy potatoes, such as Yukon Gold, peeled and cut into 2-inch pieces

1

cup

peas, fresh or frozen
Instructions
Whisk together the flour, 1 teaspoon of the salt, and the pepper and spread it out on a plate.
Dredge the pieces of lamb in the seasoned flour and shake off any excess.
Heat the oil in a large, heavy Dutch oven or deep saucepan over medium-high heat.
Add approximately ⅓ of the lamb to the pot, so as not to crowd it, and brown the pieces on all sides, 4 to 5 minutes total.
Remove the browned pieces to a plate. Repeat two more times until all the lamb has been browned, adding more oil to the pot if necessary. Set aside.
Add the onion to the pot and scrape up any browned bits stuck to the bottom of the pot with a wooden spoon. Season the onion with a pinch of salt and pepper. Sauté the onion over medium heat until softened, about 5 to 7 minutes. If the onion is sticking to the pan, add a tablespoon of water.
Add the garlic, tomato paste, rosemary, and thyme, and sauté an additional minute until fragrant.
Return the meat and any accumulated juices to the pot. Add the stout and the broth or water. The liquid should mostly cover the meat but not submerge it. If the liquid is too low, add another splash of broth. Taste the liquid (it will taste bitter, but don't worry), and add more salt and pepper if needed.
Increase the heat to high and bring the stew to a boil. Then reduce the heat to low or medium-low and simmer the stew, uncovered, until the lamb is tender, about 30 minutes.
Add the carrots and potatoes and stir to combine. Increase the heat and bring the mixture back to a boil.
Partially cover the pot and turn the heat down to medium-low or low and simmer stew just until the vegetables are tender, 20 to 30 minutes.**
Add the peas and simmer just until the peas are heated through. Taste and adjust the seasoning, adding more salt or pepper as needed.
Garnish with additional chopped fresh rosemary if desired. Serve immediately.
Notes
*Can use 3 lbs. boneless leg of lamb trimmed of excess fat and cut into 2-inch pieces instead of stew meat.
**May be done up to a day in advance. Transfer stew to a covered container and refrigerate until needed.