Lamb Kofta is a meatball made from seasoned ground lamb. It is a popular dish all over the eastern Mediterranean and the Middle East. Kofta can be grilled, cooked on the stove, or roasted in the oven, but I like to cook them in the air fryer for a quick weeknight dinner that the whole family loves.
Serve these lamb kofta with an easy-to-make tahini sauce and store-bought pita bread for an effortless yet authentic Middle Eastern meal at home.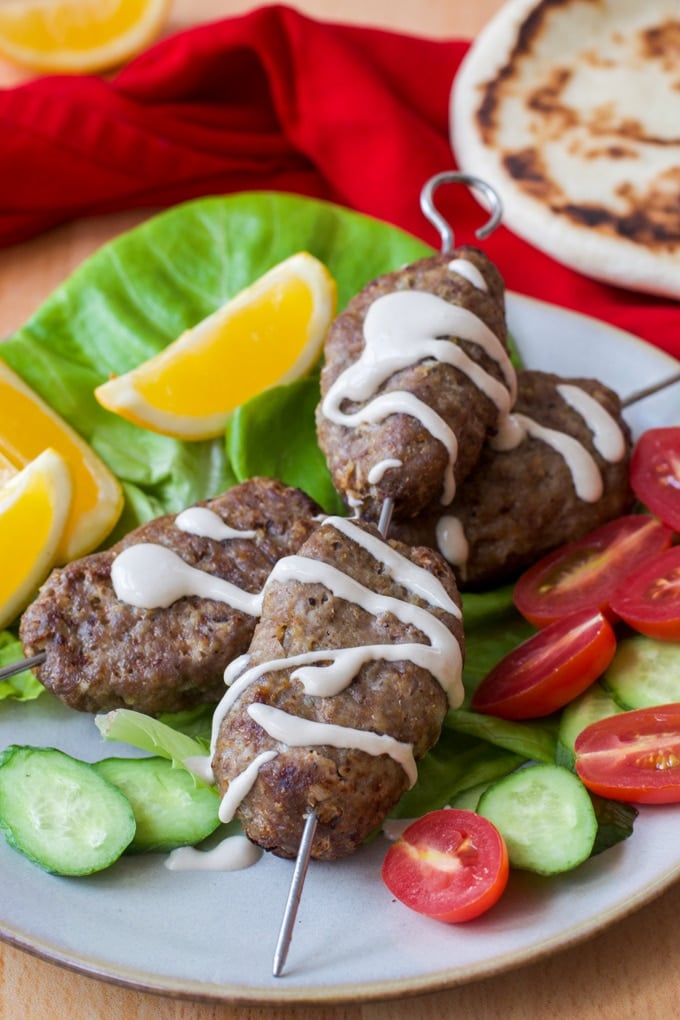 What Is Lamb Kofta?
Kofta is the Arabic word for meatball. All over the Middle East, Greece, and Turkey, people enjoy kofta made from ground beef, lamb, or veal – or a combination of meats. The meat is often flavored with onion, garlic, fresh herbs, and earthy or sweet spices like cumin, allspice, and cinnamon. Kofta can be shaped into balls, flat patties, or even long skinny torpedos.
Ground lamb is one of the most commonly used meats for kofta because lamb is a favorite meat in this part of the world. Around the Mediterranean, beef is very expensive and many people do not eat pork for religious reasons, hence lamb is the preferred protein.
It has a very mild flavor and is easy to find at the grocery store. So, this is a perfect recipe to try if you are new to cooking lamb or you don't love lamb that has a strong gamey flavor. I promise that these lamb kofta will win over any lamb skeptics in your house!
What Is Bulgur, And Why Is It In My Kofta?
All over the world, when cooks make meatballs, they often add additional ingredients to bind the meat together and help keep the meatballs tender. This is also a way, in leaner times, to stretch a small amount of meat to feed the whole family. For example, you may be used to adding bread crumbs to your Italian-style meatballs.
In this instance, we are adding bulgur wheat to our lamb kofta as a binder. Used frequently in Middle Eastern and Turkish cuisine, bulgur is simply cracked whole-grain wheat groats that come in different grinds, from coarse to extra-fine. You may be familiar with bulgur because it is the grain used in tabbouleh.
When shopping, look for finely ground bulgur wheat, which you should be able to find in most grocery stores with a good selection of international products or online (here), and soak it in hot water to soften it before adding it to your kofta.
If you cannot find bulgur, you can use 3 tablespoons of dry breadcrumbs soaked in 2 tablespoons of lukewarm water. Or, if you prefer to make your kofta gluten-free, you can substitute a 1/2 cup of cooked quinoa for the bulgur and skip the water. You can use any extra bulgur in place of the farro in this Tabbouleh on our sister site COOKtheSTORY.
How To Make It In The Air Fryer
To make lamb kofta, simply combine ground lamb with the softened bulgur, minced onion, salt, and a selection of Middle Eastern spices. Knead the ingredients together with a fork or clean hands and form into patties.
It is best to form the kofta patties in advance and chill them until firm, which will help them stay together during cooking. You can form the patties as little as 30 minutes in advance or up to one day before you want to cook the kofta. Place the formed patties on a clean plate, cover, and refrigerate until needed.
The air fryer is the perfect appliance for cooking these lamb kofta in record time! (If you don't have one yet, everyone on TheCookful team loves this one.) Thread the kofta patties onto metal or bamboo skewers that fit into your air fryer. (If using bamboo skewers, soak them in water for 30 minutes to prevent burning.)
Lightly oil the patties so that they don't stick. Place half of them into the air fryer basket and cook at 400 degrees Fahrenheit for 10 minutes, turning the patties once halfway through cooking. Repeat with the remaining patties. That's just 20 minutes of total cooking time!
How To Serve
Kofta are often served with a sauce for drizzling over the meat. In this case, I suggest a quick tahini sauce that you can whip up in the blender or food processor while the lamb is cooking. This recipe makes a lot of tahini sauce, so you will have plenty leftover for other uses, like drizzling over roasted vegetables or whisking into a salad dressing.
If you don't care for tahini, or have a sesame allergy in your family, a yogurt-based sauce like Tzatziki would also be delicious with these lamb kofta.
To round out your meal, serve the lamb kofta with plenty of pita bread and some crunchy, fresh vegetables, like cucumber and tomato. One idea is to make an Israeli salad of finely diced tomato, red onion, and cucumber in a lemon juice and olive oil dressing. Pass lemon slices for spritzing over everything and enjoy!
Print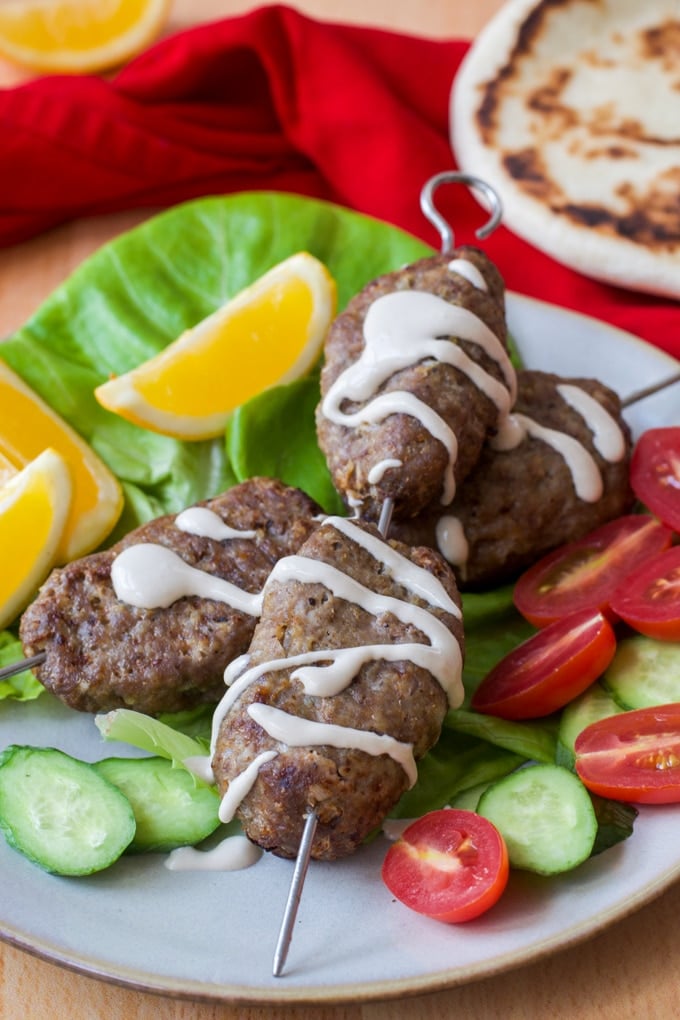 Air Fryer Lamb Kofta
Contributor: Emily Paster
Lamb Kofta is a meatball made from seasoned ground lamb. It is a popular dish all over the eastern Mediterranean and the Middle East. Kofta can be grilled, cooked on the stove, or roasted in the oven, but I like to cook them in the air fryer.
Listen to learn how to make this recipe, along with some great tips from Christine:
Author:

Prep Time:

15 minutes

Cook Time:

20 minutes

Total Time:

35 minutes

Yield:

4

servings

1

x

Category:

Entree

Method:

Air Fryer

Cuisine:

Mediterranean
Tahini Sauce:
3/4

cup

tahini paste
Juice of

2

lemons

2

–

3

garlic cloves, coarsely chopped

1

and 1/2 tsp. kosher salt, divided
Lamb Kofta:
2 Tbsp

. finely ground bulgur wheat*

1

lb

. ground lamb

1/2

yellow onion, minced

1 tsp

. coriander

1 tsp

. cumin

1/2 tsp

. black pepper

1/4 tsp

. ground cinnamon
Cooking spray or oil
Pita bread for serving
Instructions
To make the tahini sauce, place the tahini paste, lemon juice, garlic, and ½ teaspoon of the salt in a blender or food processor and pulse a few times until the mixture forms a paste. With the motor running, slowly pour in ½ cup cold water and blend until the sauce is smooth and pourable, 1 to 2 minutes. If the mixture is still too thick to pour, which will depend on the consistency of the tahini paste, add up to an additional ¼ cup of cold water in the same manner. Refrigerate sauce until needed.**
Mix the bulgur with two tablespoons of very hot water in a heatproof bowl. Let stand for 7 minutes until all the water is absorbed and then stir with a fork.
To form the kofta, combine the softened bulgur with the lamb, onion, one teaspoon of the salt, and spices in a medium bowl and mix thoroughly with your hands.
With damp hands to prevent sticking, form the lamb mixture into 8 equal, tightly packed oval patties. Place the patties on a plate, cover, and refrigerate for at least 30 minutes and up to overnight.
When you are ready to cook the kofta, preheat the air fryer to 400ºF for 3 minutes. 
Working in two batches, so as not to overcrowd the air fryer basket, thread half of the patties onto metal skewers. Spray them lightly all over with cooking spray (or rub them all over with a small amount of olive oil) to prevent sticking. Place them in the air fryer in a single layer.
Cook until the kofta are browned and the internal temperature reaches 160ºF on an instant read thermometer (like this one), about 10 minutes, turning once halfway through cooking. Repeat with the second batch of patties.
Place the cooked kofta on a paper towel–lined plate to absorb any excess oil. Serve warm with tahini sauce.
Notes
*For a gluten-free version of this recipe, substitute 1/2 cup cooked quinoa for the bulgur.
**Sauce may be prepared up to 2 weeks in advance.