This traditional English mint sauce recipe is easy to make and is delicious served with lamb and other meats too. It's also a tasty marinade!
Store-bought mint sauce typically comes in a little jar and inside there's a somewhat liquidy green condiment with bits of mint leaf floating in it. It is quite vinegary in flavor with a bit of sweetness and a lot of mint flavor. I'm going to share with you how I make my homemade mint sauce for lamb that is so easy and tasty.
Scroll down to read more about how it all comes together or click here to jump straight down to the recipe.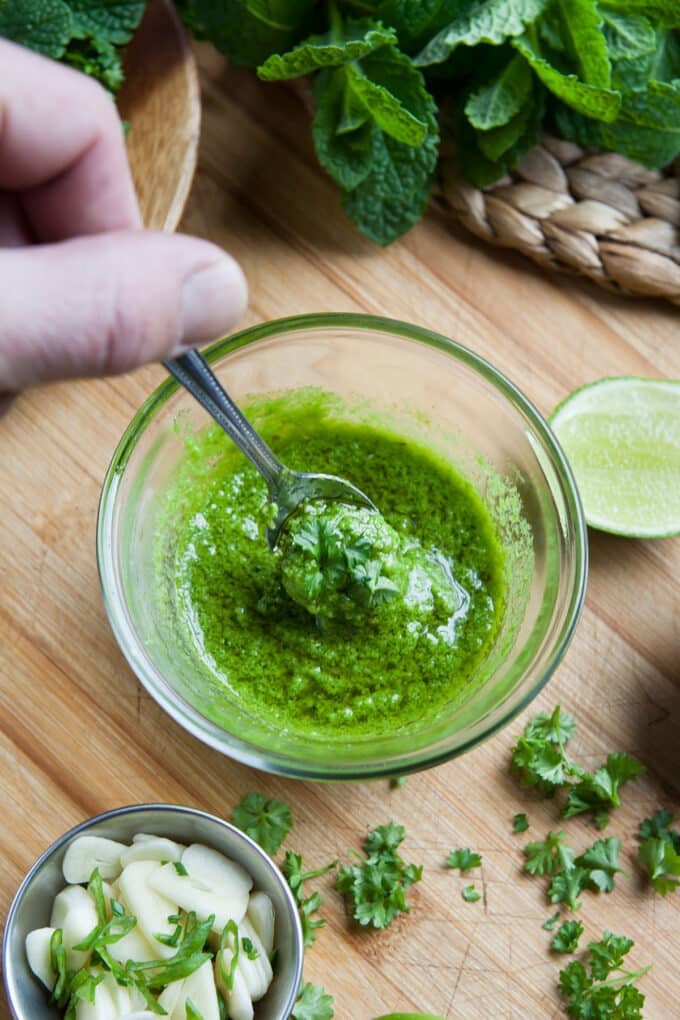 Are Mint Sauce and Mint Jelly The Same?
Although mint sauce and mint jelly are both served with roast lamb, especially in England, they are not the same. Mint jelly is a jellied sauce that contains gelatin or pectin to firm up like jam or jello. It's typically fairly sweet and doesn't usually contain much acidic flavor. Or, at least, it contains much much more sugar so the sourness isn't as detectable. Mint sauce, on the other hand, is not jellied and it contains a high ratio of vinegar. It is therefore quite a bit more sour than mint jelly.
Today's recipe is for mint sauce, although I am thinking of doing a mint jelly for you as well soon!
Ingredients
Mint sauce is made of a lot of fresh mint, a bit of hot water to pull out the flavor from the mint, sugar, salt, and vinegar. That's really all you need.
However, you can switch it up a little bit and make it much much better by doing so. For instance, a little squeeze of fresh lime juice really perks up the sour flavor and makes it brighter. Also, adding a little bit of minced garlic adds so much zing.
That's really the beauty of homemade mint sauce. You can add a couple of extra little things and it makes a big difference.
Why Do We Eat Mint Sauce With Lamb?
Figuring out why flavors go together can be tricky. It is suspected that the reason lamb and mint are eaten together is that lamb was slaughtered in the spring when mint was also abundant. The mint is thought to have provided a lot of bright freshness to combat the somewhat strong mutton flavor.
But really, if you think about it, it's not that surprising that we'd have mint with lamb. We tend to like a variety of herbs with proteins. Think about rosemary on beef and dill with salmon. Pairing a bright herb with a rich meat is pretty common. When you think of it that way, lamb and mint make a lot of sense together.
Check out our recipes for Roast Lamb and Rack of Lamb for the classic pairing.
Can You Use Mint Sauce As A Marinade?
Yes! This mint sauce recipe can also be used as a wonderful marinade for lamb or any other meat. The acidity and fresh herb flavor are perfect for this use. Simply brush the sauce onto the meat and allow it to sit in the fridge for 1-3 hours before cooking.
Other Uses For Homemade Mint Sauce
In addition to using mint sauce for lamb or other meats, try stirring a spoonful into spring peas for a bright side dish. You could mix it with yogurt to make a dipping sauce for roast chicken or falafel. It could even be made into a spread for fresh bread, mix in some olive oil if you want to thin it out.
How Long Does Mint Sauce Keep?
The mint sauce below contains vinegar which does act to preserve the mint a little bit. However, it doesn't really keep for that long since we're not canning it or anything. I typically make mint sauce on the day that I want to eat it. If any is left, it will keep well covered in the fridge for 2-3 days but will lose some color vibrancy.
Alrighty, now it's time for our fresh homemade mint sauce recipe. I think you're going to really love it! Enjoy! – Christine xo
Print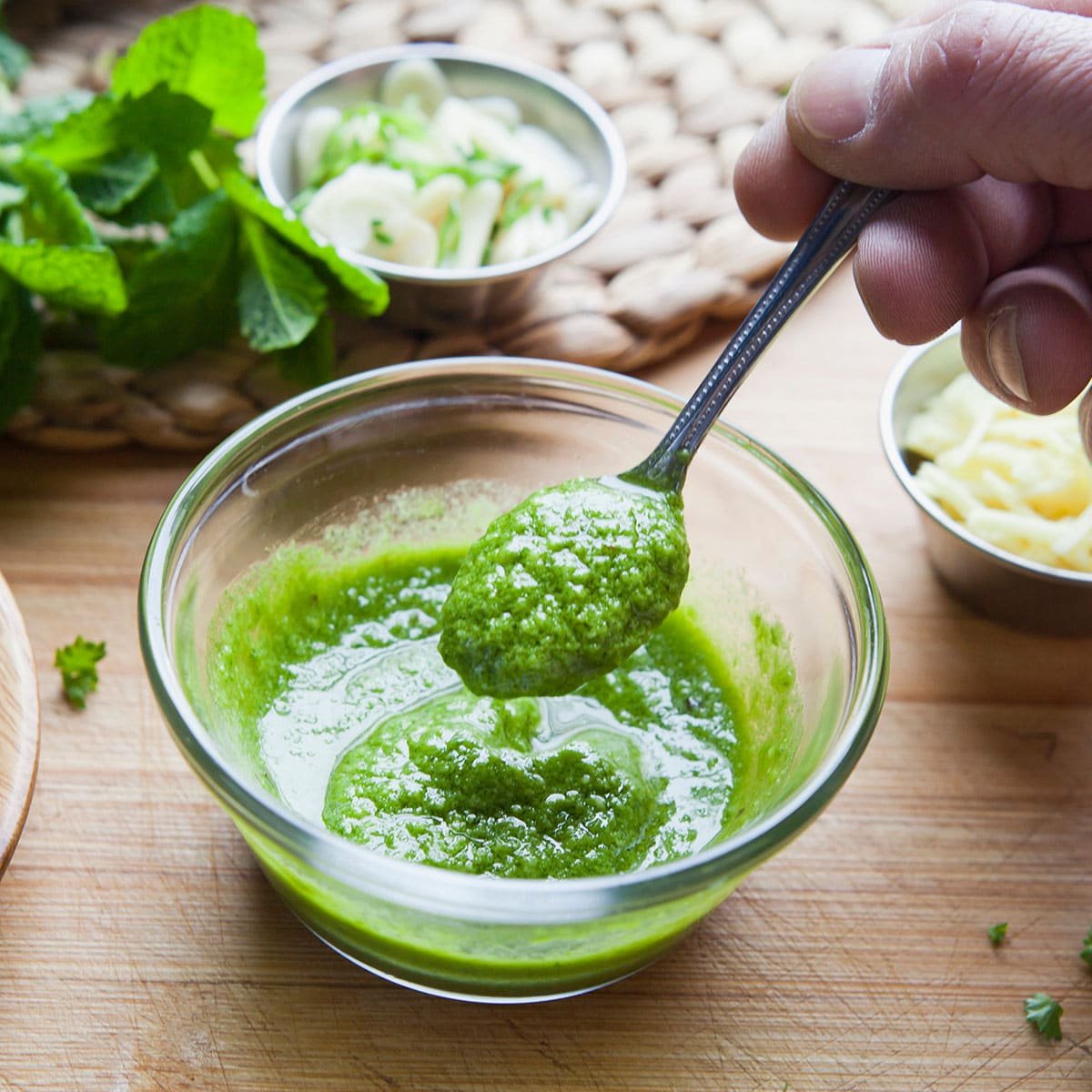 Mint Sauce Recipe
Contributor: Christine Pittman
The mint sauce recipe below is very traditional and will have the texture and taste of a store-bought version, but better. If you'd like to make it taste even better still, at the very end before serving, add a squeeze of lime juice, a pinch of black pepper, and about 1/2 clove of garlic (minced).
Listen to learn how to make this recipe, along with some great tips from Christine:
Author:

Prep Time:

15 minutes

Cook Time:

0 minutes

Total Time:

15 minutes

Yield:

1/4 cup

1

x

Category:

Sauce

Method:

Puree

Cuisine:

English
2 cups

loosely packed mint leaves (about

2/3

of an ounce)

1 Tbsp

. sugar

¼ tsp

. salt

2 Tbsp

. boiling water

1 Tbsp

. cider vinegar
Into a small food processor,* put the mint leaves, sugar, and salt. Add the boiling water.
Puree as best you can, stirring to get it going.
Add the cider vinegar and puree some more.
Let sit for 10 minutes to allow flavors to meld.
Love this recipe? I'd appreciate it if you could scroll down and add a *5 star rating* to help others know they'll love it as well!
Notes
*Note: If you don't have a food processor that can handle this small amount, you can do the following: 1) Very finely chop the mint. Put it in a bowl with the sugar and salt. Add the boiling water. Stir and mash it up a bit. Let sit for 5 minutes. Stir in the cider vinegar. Let it sit for 10 minutes for the flavors to meld.
This post originally appeared in August 2016 and was revised and republished in March 2023.