Lamb Shish Kebabs are perfect for summer grilling. Before grilling them, we marinate them in a flavorful and easy garlicky lemon marinade!
These Mediterranean-inspired lamb shish kebabs are one of the tastiest things you can grill this summer. A garlicky, lemon marinade tenderizes the meat and infuses it with big, punchy flavors. Place the skewers directly on a screaming hot grill and they will be cooked to medium-rare perfection in under 15 minutes.
All over the world, people love to grill lamb. From Greece to India to the Middle East, you will find cooks grilling up Lamb Burgers, Lamb Chops, and, of course, lamb shish kebabs. After all, who doesn't love grilled meat on a stick?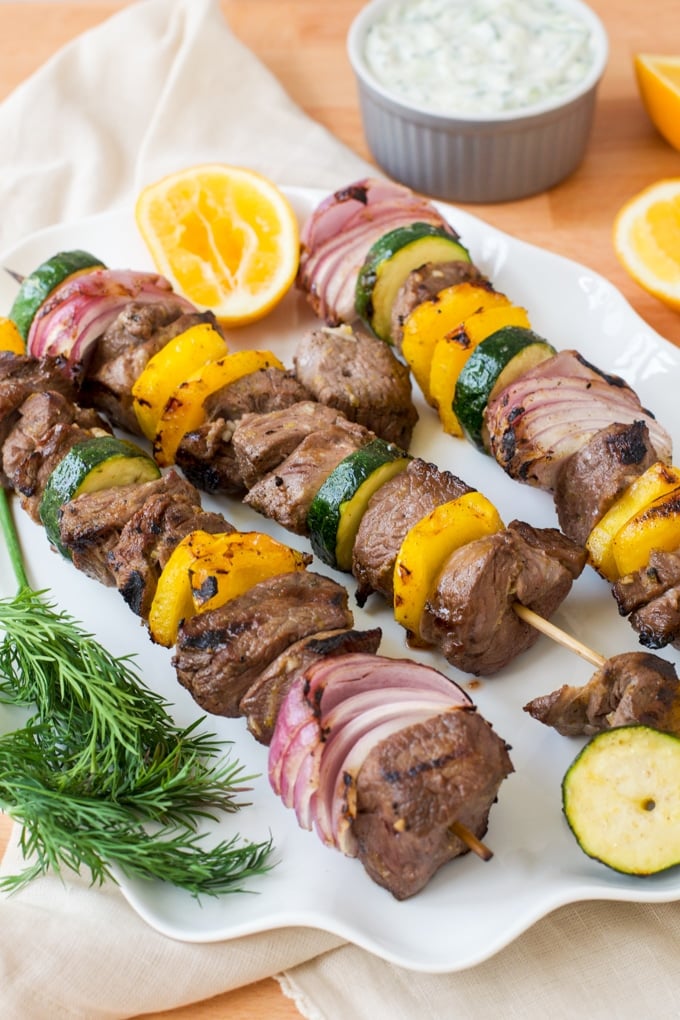 What Are Shish Kebabs?
Shish kebab is a catch-all term for marinated meat and vegetables on a skewer. You can make shish kebabs with any meat, including chicken or beef, but today we are focusing on lamb. Shish kebabs originally come from the Mediterranean, specifically Turkey. And people in the Mediterranean eat a lot of lamb, so lamb shish kebabs are quite traditional.
What Cut Of Meat Should You Use?
The first step to a perfect lamb kebab is picking the right cut of meat. I recommend boneless leg of lamb because it is readily available and makes a tender and flavorful kebab, especially after marinating. If your grocery store meat counter sells lamb stew meat, that could be another option. Ask the butcher what cut the stew meat is from and whether he or she recommends it for grilling.
Note that these lamb shish kebabs are not the same as lamb kofta kebabs which are made with ground lamb. Lamb kofta is delicious and definitely another favorite for the grill, oven, or air fryer. But that recipe is quite different as lamb kofta is made from seasoned ground lamb that is formed into a patty while these shish kebabs are made from whole pieces of lamb.
When To Marinate The Lamb
Because the kebabs cook quickly, marinating them prior to cooking helps keep the meat tender. Marinate the lamb in the morning, or even the night before, if you are planning to grill the kebabs for dinner. We are going with Mediterranean flavors for these lamb shish kebabs, so the marinade is a mix of lemon juice, garlic, warm, earthy spices like cumin and coriander, and, of course, olive oil.
How Do You Keep Wood Skewers From Burning?
Once the lamb has marinated for several hours, it is ready to be threaded onto skewers for grilling. Both wooden or metal skewers work well here. If using wooden skewers, soak them in water for at least 30 minutes to prevent them from burning on the grill.
You can, of course, grill skewers of meat by itself, but I like to add vegetables to my kebabs because that way, you almost have a complete meal. Just add some rice pilaf or warm pita bread. Again, these kebabs are inspired by the flavors of the Mediterranean, so I like to stick with classic Mediterranean vegetables, like peppers, onion, and zucchini. Plus, the bright colors of these vegetables look so beautiful on the skewers.
How To Grill Them
Cook the kebabs over direct heat on a very hot grill. Turn frequently to ensure even cooking. They should be ready in under 15 minutes. We are aiming for medium-rare, so pull the lamb off the grill when it is just under medium-rare because it will continue to cook for a few additional minutes – what is known as carryover cooking. The internal temperature of the meat should be around 130 degrees Fahrenheit on an instant read thermometer (like this) or, if going by the feel test, the meat should feel like the tip of your nose when you press it.
These lamb and vegetables kebabs are delicious all on their own because they have a ton of flavor from the marinade. However, I do like to take it a step further and serve them with a Creamy Tzatziki Sauce on the side because the tangy yogurt complements the rich flavor of the meat so well. Plus, tzatziki, being Greek, is in keeping with our Mediterranean theme.
Print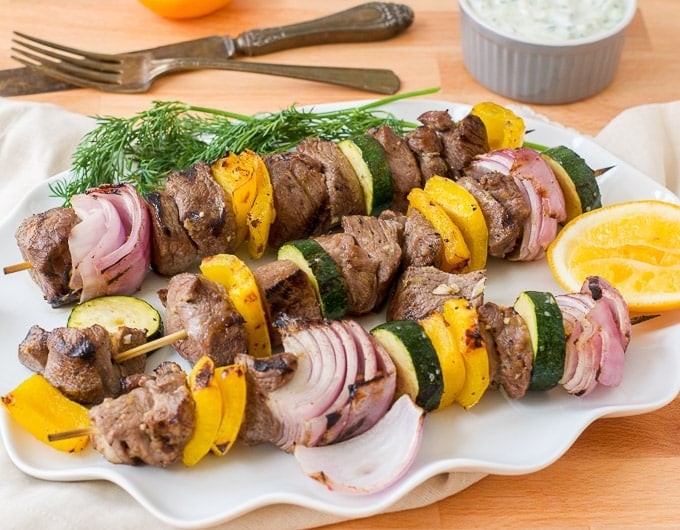 Lamb Shish Kebab
Contributor: Emily Paster
Lamb Shish Kebabs are perfect for summer grilling. Before grilling them, we marinate them in a flavorful and easy garlicky lemon marinade!
Author:

Prep Time:

30 minutes

Marinating Time:

6 hours

Cook Time:

20 minutes

Total Time:

6 hours 50 minutes

Yield:

6

servings

1

x

Category:

Entree

Method:

Grilling

Cuisine:

American
Marinade:
Zest and juice of 1 large lemon

3

garlic cloves, minced

1 tsp

. ground cumin

1 tsp

. ground coriander

1 tsp

. kosher salt

1/2 tsp

. freshly ground black pepper

1/3

cup

extra-virgin olive oil
Kebabs:
2

pounds

boneless leg of lamb, trimmed of fat and cut into 2-inch cubes

1

bell pepper, cut into

1

-inch pieces

1

medium zucchini, sliced into rounds 1-inch thick

1

red onion, sliced into wedges 1-inch thick

1 tsp

. kosher salt
Freshly ground black pepper to taste
Tzatziki for serving
Instructions
To prepare the marinade, combine the lemon zest and juice, garlic, cumin, coriander, salt, and pepper in a medium bowl. While whisking, slowly pour in the olive oil and whisk until combined.
Place the lamb in a glass or ceramic baking dish and cover with the marinade. Toss to coat all the pieces of the meat with the marinade. Cover and refrigerate for at least 6 hours and up to 24 hours.
Bring the lamb to room temperature prior to grilling. If the oil has congealed in the refrigerator, whisk it back into the marinade.
Preheat the grill for direct grilling over high heat. While the grill is heating up, thread the lamb and vegetables onto wood* or metal skewers. Baste the skewers with the remaining marinade and season with salt and pepper.
Place the skewers on the preheated grill directly over the heat and cook, turning frequently, until the vegetables are softened and the internal temperature of the meat reaches 130°F on an instant read thermometer (like this) for medium-rare, 12 to 15 minutes.
Transfer the meat and vegetables to a platter and let rest for 5 minutes. Serve warm with tzatziki on the side.
Notes
*If using wooden or bamboo skewers, soak them in water for 30 minutes to prevent scorching.