Lamb Rogan Josh is a fragrant lamb curry, known for its red hue. It originally hails from northern India, specifically the region of Kashmir. In America, lamb rogan josh has become one of the most popular dishes at Indian restaurants. But there is no need to wait for your next night out to enjoy this iconic lamb stew – it is quite easy to prepare at home.
Making lamb rogan josh at home requires several steps, but the work can be broken up and done over the course of a day (or two!), so it is not stressful. Indeed, this is a great recipe to prepare in advance and reheat just before serving. Like most stews, lamb rogan josh may even taste better the next day.
And yes, you will notice that the list of ingredients in the recipe appears quite long. Do not panic! Most of the ingredients are spices, and I promise, most of the spices are ones that you likely already have in your pantry.
First, a little bit of background. There have long been conflicting stories about the origins of lamb rogan josh, but my friend Chef Jasmine Sheth, an expert on regional Indian cuisines, says that most people believe that this dish came to Kashmir from Persia hundreds of years ago.
The signature red color of lamb rogan josh comes from Kashmiri chiles. If you are able to source Kashmiri chile powder – online here or from an Indian grocery store near you – by all means, do so. It will add a wonderful authentic flavor to your stew. However, there is no need to make a special purchase, my recipe uses a combination of smoked paprika and a hint of cayenne pepper to approximate the taste and spice level of Kashmiri chile powder.
The first step is to marinate the lamb in a mixture of yogurt, garlic, ginger, and turmeric. The marinade both flavors and tenderizes the meat. I highly recommend that you plan ahead and marinate the lamb either the night before you plan to cook the stew, or in the morning if you plan to cook the lamb that evening.
When it is time to start cooking, begin by sautéing some onion. For this step, you can either use a neutral vegetable oil or ghee, which is Indian clarified butter. Ghee has gotten a lot of attention recently because it is both paleo and Keto-friendly. It also has a wonderful, nutty taste.
Unlike butter, ghee is shelf-stable and is suitable for frying and high-heat cooking. Many grocery stores carry it these days, so you may want to add a jar to your pantry.
Once the onions are soft, they are then seasoned with a heady mix of spices. This spice mix is responsible for many of the ingredients you see listed below. As promised, most of the spices needed for this stew are pantry staples, like cumin, coriander, and cloves. Together, they add deep, rich flavors to the luscious sauce in which we braise the meat.
The only spice that may be unfamiliar to you in this long list is garam masala, which we do not add until the very end of cooking. Garam masala is actually a spice mix that contains earthy, warm, and sweet spices, such as cumin, coriander, fennel, black pepper, cinnamon, cloves, cardamom, and nutmeg.
Today, most spice brands sell a version of garam masala and it is worth picking up a jar. Add it to your Indian and South Asian dishes – always at the end of cooking – for unbeatable flavor.
Don't believe me? Taste this sauce before you add the garam masala and again afterwards. I promise you will notice the difference. Of course, you can also try making your own garam masala, personalized to your taste, and there are many good recipes available for this spice mix.
One last note about this lamb rogan josh recipe. You will notice that my recipe includes tomatoes. Every lamb rogan josh that I have ever eaten, all of which were in restaurants, had tomatoes in it, but apparently it is not traditionally part of the dish.
Chef Jasmine notes that growing up in India, she never saw lamb rogan josh with tomatoes in it, but that here in America, tomatoes are almost always included. Personally, I think the tomatoes add brightness and acidity. So I say, let's add them!
Print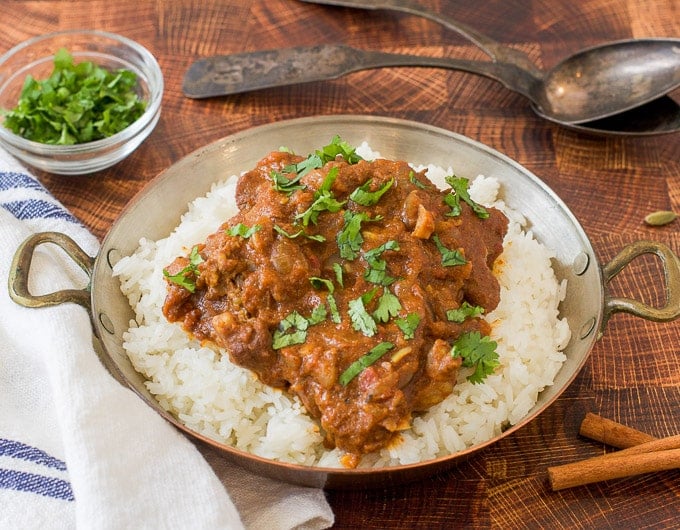 Lamb Rogan Josh
Contributor: Emily Paster
Lamb Rogan Josh is a fragrant lamb curry, known for its red hue. It originally hails from northern India, specifically the region of Kashmir.
Author:

Prep Time:

20 minutes

Marinade Time:

3 hours

Cook Time:

1 hour, 20 minutes

Total Time:

4 hours 40 minutes

Yield:

4

servings

1

x

Category:

Entree

Method:

Stove Top

Cuisine:

Indian
1

cup

plain, full-fat Greek yogurt

6

cloves garlic, minced

2

-inch piece ginger root, peeled and grated

1 tsp

. turmeric

2 tsp

. kosher salt, divided

2

lbs

. lamb stew meat OR boneless lamb shoulder or leg cut into 1-inch pieces

2 Tbsp

. ghee or neutral vegetable oil

2

yellow onions, sliced thin

2 tsp

. smoked paprika

1

and 1/2 tsp. ground coriander

1

and 1/2 tsp. ground cumin

1/2 tsp

. black pepper

1/2 tsp

. ground cardamom

1/2 tsp

ground cloves

1/4 tsp

. ground cinnamon

1/8 tsp

. cayenne pepper

1

(14.5 oz.) can crushed tomatoes

1

cinnamon stick

1

bay leaf

1 tsp

. garam masala

1 Tbsp

. chopped fresh cilantro
Basmati rice, for serving
Instructions
To marinate the lamb, combine the yogurt, garlic, ginger, turmeric, and 1 teaspoon of the salt in a small bowl and whisk to combine. Place the lamb in a glass or ceramic baking dish and add the yogurt mixture. Toss the pieces of lamb until they are coated in the marinade. Cover the dish and refrigerate for at least 3 hours and up to overnight.
To make the stew, melt the ghee or vegetable oil in a large Dutch oven set over medium-heat. When the fat is hot, about 2 minutes, add the onions and stir to combine. Season with 1/2 teaspoon of the salt. Sauté the onion until golden brown and softened, about 10 minutes.
While the onions are browning, whisk together the paprika, cumin, coriander, cloves, cardamom, pepper, cinnamon, and cayenne pepper to make a spice mix. Once the onions are browned and softened, add the spice mix and sauté an additional minute until fragrant.
Add the lamb with the marinade to the onion mixture and stir to combine. Use a wooden spoon to scrape up any browned bits on the bottom of the pan and stir them into the stew. Brown the lamb on both sides and simmer until the marinade has thickened, about 10 minutes.
Add the tomatoes, cinnamon stick, and bay leaf and stir to combine. (The liquid should mostly cover the meat. If it does not, add a splash of water.)
Raise the heat to high and bring the stew to a boil. Turn the heat down to medium-low or low, partially cover the pot, and simmer the stew until the lamb is fork-tender, about 1 hour. If the stew begins to look dry, add water as necessary.
When the lamb is tender, add the garam masala and stir to combine. Taste and adjust the seasoning, adding more salt or pepper if necessary. Discard the cinnamon stick and bay leaf.*
Garnish the stew with the chopped cilantro and serve over steamed rice.
Notes
*Lamb may be prepared up to one day in advance. Transfer to an airtight container and refrigerate until needed. Reheat on the stove, adding water if the stew is too thick.