Homemade turkey sausage patties are delicious and easy to make. The best part is that you know exactly what's in them. So then. these are breakfast sausages that you can feel great about!
If you're new to making sausages at home, turkey sausage patties are a great place to start. They don't need any special equipment and they taste great. They're really easy to make too!
All you need is two ingredients, a sheet pan, and a round cookie cutter (or a glass), and you're ready to go!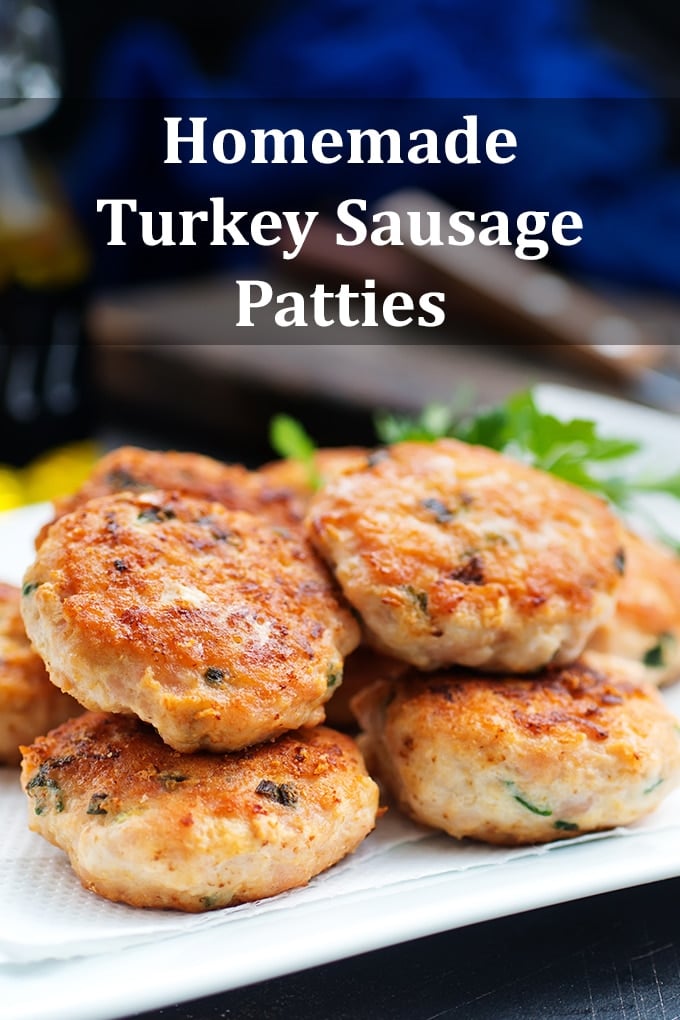 Note: This recipe is for turkey sausage patties. If you want to make pork breakfast sausage patties head over here, and for pork breakfast sausage links go here. We'll also be doing turkey sausage links soon (with instructions for with and without special sausage-making equipment) so come back to our sausage series to check that out as well.
As noted, this recipe is for turkey sausage patties. You'll therefore need ground turkey. You can get it at the grocery store, or you can grind your own turkey if you have a meat grinder. Actually, if you're thinking about making more sausages, you might want to get a meat grinder and sausage stuffer. This is all-in-one and attaches to a KitchenAid mixer.
As to what kind of turkey to get, you can use ground turkey breast but that meat is very lean and can be dry. It is better to use ground turkey that has a higher fat content, or try mixing half ground turkey breast with half ground turkey.
To the ground turkey, you add your seasoning. You can get breakfast sausage seasoning online or at a butcher supply store, or you can make your own. The seasoning ingredients are likely things that you already have in your pantry, like sage, thyme, brown sugar, and cloves. I actually really like the cloves in there. It gives the sausage that sweet-treat breakfast flavor, and it goes so great with maple syrup!
Something I've been meaning to try but haven't yet, is to plump up some dried cranberries in boiling water. Let them sit in there for about 15 minutes. Drain them and chop them. Then add those dried cranberries to your sausage mixture. Doesn't that sound amazing???
How To Shape Sausage Patties
This is a really easy technique for shaping breakfast sausage patties. You can totally shape them with your hands the way you would burger patties, but this is so much easier and less messy.
What you do is to spread your seasoned ground turkey out on a large sheet pan. Spread it so that it's the thickness that you want your patties to be.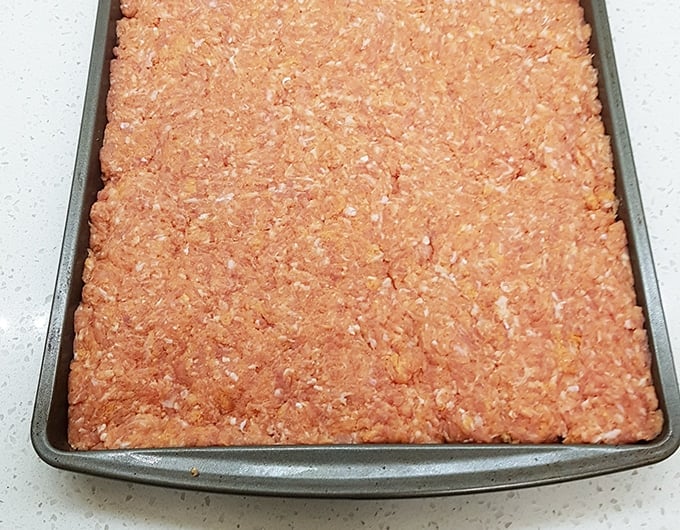 Then you put that tray into the freezer for about 20-30 minutes. You want it to firm up, but you don't want it to freeze fully. If it freezes fully, your next step will be too difficult for sure.
After the meat is very very cold, maybe even a bit frozen in places but not fully frozen, get a round cookie cutter the size that you'd like your patties to be. You can alternatively use a glass with a diameter of the patties.
Use the cookie cutter or glass to cut your patties like this: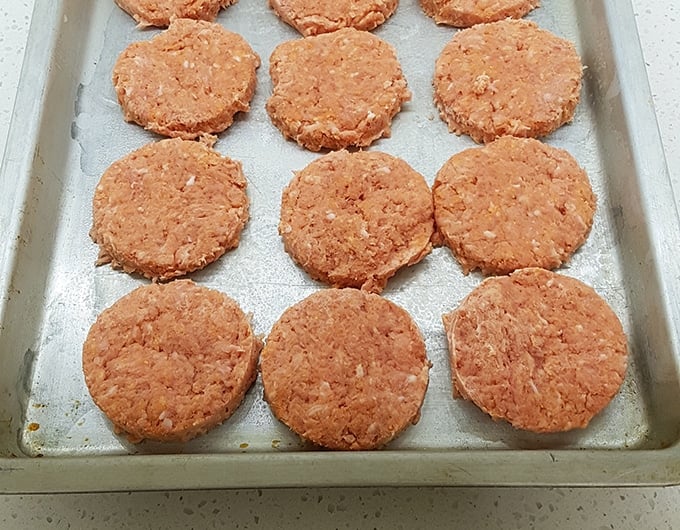 You'll have the bits of meat that were around each patty. You can either spread that turkey out on the tray and chill it and then cut it, or form those using your hands, or leave that seasoned ground turkey to use as crumbled sausage meat (like for sausage gravy…mmm).
How To Freeze Sausage Patties
Once you've shaped your sausage patties, you can cook them immediately (see below), you can keep them in the fridge for a few days, or you can freeze them.
If you're keeping them in the fridge, simply put some plastic wrap, wax paper, or parchment paper, between them so that they don't stick to each other. Don't put more than 2-3 in a pile though or else the top ones will weigh down and flatten lower ones. Alternatively, you can keep them in a single non-overlapping layer.
If you're freezing your turkey sausage patties, put a piece of wax paper or parchment on a sheet pan. Then arrange the patties in a single non-overlapping layer. Freeze them fully. After that, cut the paper and put it in between the frozen turkey patties, and put them in a freezer bag. They won't stick together this way since they are already frozen, and the paper will prevent it even more.
How To Cook Sausage Patties
There's not much fat in the turkey sausage patties so you'll need to add a little bit to your cooking surface, or use a non-stick method.
Heat a skillet over medium heat. Add some cooking oil, a teaspoon will do for about 4 patties. Add the turkey patties in a single non-overlapping layer. Cook until well-browned underneath, about 3-4 minutes. Flip and cook until well-browned on the other side. Cut into one and make sure it is no longer pink inside. Remove from the heat and serve.
Alternatively, you can cook the patties in the air fryer. Put them in a single non-overlapping layer in the air fryer. I can fit 4 in my air fryer. Set it to 400F and let them cook for 4 minutes. Flip them over and cook for another 3-5 minutes, until they're browned on both sides and no longer pink in the middle.
There you have it! That's pretty much everything I know about turkey sausage patties. I think you're really going to love them!
Enjoy!
Barry 🙂
Print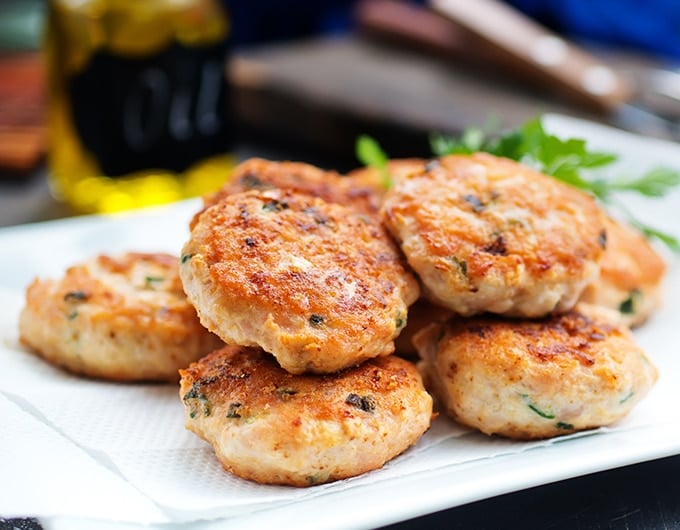 Homemade Turkey Breakfast Sausage Patties
Contributor: Barry Pittman
Homemade turkey sausage patties are delicious and easy to make. The best part is that you know exactly what's in them. These are breakfast sausages that you can feel great about!
Author:

Prep Time:

20 minutes

Total Time:

20 minutes

Yield:

20

servings

1

x

Category:

Entree

Method:

Stir

Cuisine:

American
2

and 1/2 lbs. ground turkey

0.8 ounces

(by weight)* sausage seasoning (buy here or make your own)

1 cup

water
Instructions
In a large mixing bowl, place ground turkey.
Add sausage seasoning and water. Mix well.
Lightly spray a sheet pan with at least a ½ inch lip (I like these) with cooking spray.
Place turkey mixture in the pan and spread it out so it is the thickness of your desired sausage patty thickness. Smooth it out.
Place pan in freezer for about 30 minutes. Do not freeze solid.
Using a circular cutter (cookie cutter, glass or cup) to cut the patties.  If your cutter gets sticky just dip it in water.
Notes
*You can buy different sausage seasoning mixtures but be sure to read the instructions on the seasoning packet to see how much to use with 2 and ½ pounds of meat as it will vary from brand to brand. The homemade sausage seasoning recipe that we've linked to is for 5 pounds of meat. That means that you will use half of the seasoning mixture when making the above recipe, which will be about 3 and ½ tablespoons. If you're unsure about the amount of seasoning to use, you can find good instructions here for how to figure out how much seasoning you need when making sausages.