Can't get enough chicken wings? Whether you prefer them fried, baked, or smoked, we've got you covered!
Chicken wings. They're the perfect snack, appetizer, and depending on what you do with them, they can be the perfect entree.
But how many different ways can one cook chicken wings? As it turns out, there are quite a lot of tried and true methods.
Here at The Cookful, we absolutely love chicken wings, and have dedicated a decent portion of the site to them. In this article, we're going to briefly highlight a number of ways that you can prepare this classic game day food.
If you want a more in depth look at these various methods, links will be provided in each section.
Without any further delay, let's start dishing on how to cook chicken wings.
How Do You Cut Chicken Wings?
You don't need to be a butcher to cut your own chicken wings. It's simple and easy, and can be accomplished in just a few steps.
Our method of chicken wing cutting should help you prepare two pounds of wings in just about two minutes.
First, make sure you have a sharp knife and a cutting board.
Stretch the wing out on the cutting board. Notice the three parts of the wing (wing tip, wingette, and drumette).
Slice off the tips and set them to the side. (Either discard them or save them to make stock).
Slice between the wingette (center) and the drumette (the little drumstick).
Wiggle the knife to combat resistance. When that resistance lessens, push down.
Separate the pieces and move on to the rest!
Here's a step-by-step photo tutorial for cutting wings to help you out.
How Do You Fry Chicken Wings At Home?
Frying chicken wings is one of the most common ways to cook them. That's how it's done in restaurants. You won't need to invest in a deep fryer, though. You can easily fry your own chicken wings at home without any special tools.
Here are the steps you'll need to take to fry up some restaurant quality wings!
Pour 1 and ½ inches of vegetable or canola oil into a large pot. Make sure you're using an attached candy thermometer that goes in the oil but won't touch the pot itself. Heat the oil to 350⁰F.
Take four wings and cut them into drummettes and wingettes. (You should have eight pieces in all). Lower them into the heated oil.
Keep the oil between 350 and 375⁰F. Watch out for splatter. If the oil gets too hot, remove from the heat and cool for one minute.
Flip the wings occasionally until they are browned all over. The internal temperature should be at 165⁰F as read on an instant read thermometer. This should all take between 8 and 10 minutes.
Remove the wings from the oil with tongs and place on a paper towel covered plate.
Toss the cooked wings in the sauce of your choice.
Enjoy!
How Do You Grill Chicken Wings?
Another popular way to cook chicken wings is to grill them. Grilling chicken wings at home is a lot different than the deep frying method. They won't be nearly as crisp, but they're still amazing if cooked the right way.
Don't worry about marinating them before the grilling. It's not needed.
Just follow these steps.
Oil the grill racks and set the grill to medium heat. You want it to be about 350⁰F.
Place the wings on the grill and close it. Wait a few minutes and then use large tongs to pick them up and look underneath. Once they start to char, flip them over. Continue to monitor and flip them as they continue to darken.
Cook them this way until the interior temperature reaches 165⁰F as read on an instant read thermometer.
Using tongs, transfer these cooked wings to a bowl.
Add your favorite sauce and stir them up.
How Do You Bake Crispy Chicken Wings?
Who says that you need a deep fryer to make crispy chicken wings? You can bake crispy chicken wings in your home oven and it's super easy! This is also a great way for making wings for a crowd since you can do a whole sheet pan (or three) at a time.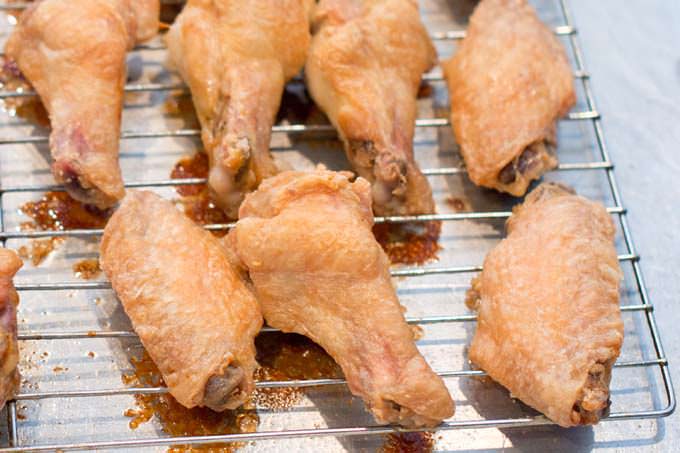 It all boils down to a secret technique, which I will share with you now in just a few easy to follow steps.
Cut up 10 whole chicken wings and put them into a big bowl.
Sprinkle with ½ teaspoon of salt and 1 tablespoon of aluminum-free baking powder (not baking soda!). Note that this is not much baking powder because it's not meant to be a breading, it's there to alter the pH of the skin so that it crisps up better.
Mix it all together with your hands.
Place the wings on a cooking rack on a sheet pan to allow air to circulate around the pieces. This lets them evenly crisp and lets the fat drip off.
Place the wings in the oven, heated at 250⁰F for 30 minutes. This dries them out a bit.
Leave them in the oven and turn the heat up to 425⁰F. Cook another 40 to 50 minutes.
Transfer the golden brown wings to a bowl and toss with sauce.
How Do You Make Chicken Wings in the Slow Cooker?
Slow cooker chicken wings are very real and very delicious. It's one of those classic "set it and forget it" style recipes.
Here's a step by step walk-through on how to make chicken wings in your slow cooker.
Spray the inside of the slow cooker with some non-stick cooking spray.
Place 20 wing pieces (wingettes and drumettes) inside the slow cooker.
Pour 1 and ½ cups homemade or storebought sauce over the wings. Here's a great homemade Buffalo wing sauce to try.
Place the lid on the slow cooker and cook on high for 2 hours.
When done, place the wings on a baking sheet and and brush them with sauce from the slow cooker.
Broil the wings 6-8 inches from the heat element until starting to brown on top, 3-4 minutes.
Turn them over and broil until the top is starting to brown, about another 2 minutes.
Remove the wings from the oven and brush with more sauce.
How Do You Make Smoked Chicken Wings?
Smoking your chicken wings leads to an entirely new kind of flavor. You'll need a smoker (obviously) so, if you've got one just follow these steps for creating amazing smoked chicken wings at home.
Here are the steps.
Take two pounds of chicken wings and pat them dry.
In a small bowl, combine oil, paprika, chili powder, garlic powder, cumin, salt, pepper, and cayenne pepper.
Add the oil and spices mixture to the wings and mix well.
Refrigerate the wings for 2-4 hours.
Add wood chips to your smoker, put it on smoke mode, and set the temperature to 225-250⁰F.
Smoke the wings for 2 ½ hours, flipping halfway through.
Let them rest for five minutes before serving.
How Do You Make Chicken Wings in an Instant Pot?
Instant Pots are super popular right now, and you can use them to make amazing chicken wings. If you want to cook chicken wings in an Instant Pot, you'll have to follow a 2-part process. First, you'll cook them in the Instant Pot itself, and then you'll broil them in the oven.
Follow these steps and get to cooking!
Add wings to your Instant Pot and cover with your favorite sauce.
Place the lid on top of the pot and turn the valve to sealed.
Cook on high pressure for 5 minutes. When the pressure time is finished, let the pressure naturally release for 10 minutes.
Turn the oven to broil and line a baking sheet with aluminium foil while the Instant Pot releases.
Place the wings on the baking sheet using tongs.
Broil the wings until starting to brown, 3-5 minutes per side.
How Do You Cook Chicken in an Air Fryer?
Ah, the Air Fryer. Along with the Instant Pot it's one of the must-have kitchen gadgets this year. Did you know that you can cook chicken wings in an air fryer?
All you have to do is follow these steps.
Pre-Heat the Air Fryer to 360⁰F.
Coat the wings in olive oil. Either drizzle it on or coat them entirely.
Season with salt, pepper, and garlic powder.
Place the wings in the basket with the "ugly side" facing up.
Cook for 12 minutes. Flip the wings and cook for another 12 minutes.
Increase the heat to 400⁰F.
Cook for another 6 minutes.
Transfer the wings to a bowl and toss with sauce.

In Conclusion
There you have it! A whole bunch of great ways to cook chicken wings. What's your favorite? Sound off in the comment section below and let us know!