Learn how to make the best pumpkin pie with these expert tips, and wow everyone at your holiday meal.
If you follow these eleven tips, we just know you'll make the perfect pumpkin pie just in time for Thanksgiving.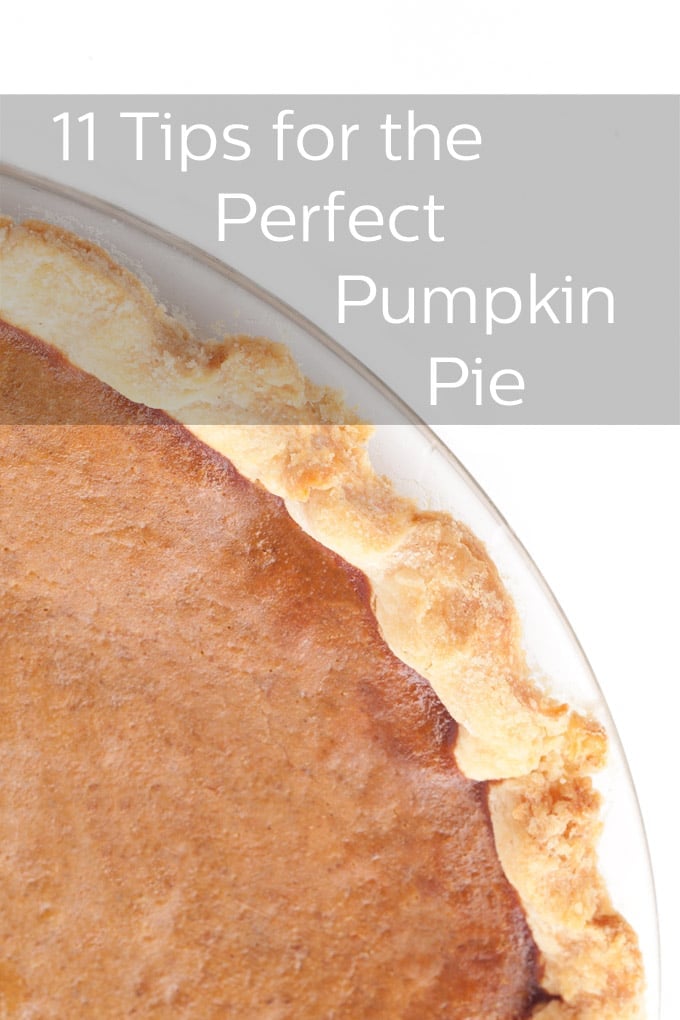 Tips For Perfect Pumpkin Pie
1. Chill your dough. My grandmother is a heck of a pie crust maker and she insists this is the secret to a flaky crust. Chill all the ingredients (even the flour!) when you're preparing the crust. Then roll out your dough into discs, wrap in plastic, and chill again for at least 30 minutes. Roll it out, put it in the pie plate and chill again for 15 minutes before filling and baking.
2. Add some cinnamon to your flour before you roll out the dough.
3. Pre-bake your crust. Most recipes for pumpkin pie have you pour the filling into an unbaked pie shell (even our own classic pie recipe!). That works but the crust does end up a bit soggy. If you don't like that pumpkin-pie-soft crust, blind-bake the crust before filling it. Then wrap foil around the top crust edges, add the filling, and bake until set. The foil stops the crust from getting any darker. Or get yourself a pie shield. It's designed to sit around the top of the pie crust and prevent it from burning.
4. Use an egg wash on your crust before you bake it. It's the key to that gorgeous golden brown.
5. Substitute part of the pumpkin in your pie with squash, yams, or sweet potato for more fall flavor.
6. Avoid getting a crack. No one likes a gigantic crack on top of their pie. My Grandma always takes her pumpkin pie out when it has just set. If you let it cook too long, that ugly crack will appear. Instead, take it out. It will finish completely setting as it cools. Note: If you do have a crack, you can always top it with a big dollop of whipped cream right in the middle of the pie, just before serving.
7. Go crazy-crazy and decorate your pie. Here are 7 gorgeous pumpkin-pie-decorating ideas.
8. Make your own pumpkin pie spice. Combine fresh spices — nutmeg, allspice, cloves, cinnamon, heck throw in some ginger.  The best thing about this is you can customize it to your own taste. If you're not a fan of nutmeg, don't put any in. Right? Here's our pumpkin spice recipe.
9. Go to town with your spices. Increase the spices in your pie by double or even triple. The flavor will be so intense. Just be sure to taste your filling as you go. You can always add more, but you can't take any away.
10. Substitute in half brown sugar for the white sugar called for in your recipe. It adds a bit of a caramel flavor to the pie.
11. Add some sweet pizzazz to your whipped cream. Try this easy Homemade Whipped Cream recipe and play around with the sweetness and flavor.
This post originally appeared in November 2015 and was revised and republished in November 2023.