Learn about Adobo Seasoning and all the wonderful ways it can be used.
Note: Below you'll find a recipe for a full 1/2 cup (4oz.) batch of adobo seasoning. In addition, in case you're trying to make a recipe that calls for adobo seasoning and you just want to make a little bit, we've also given a recipe below that makes a small batch of just 2 tablespoons. We hope you find this helpful!
What Is Adobo?
If you asked a random selection of people, you might get several different answers to that question depending on where they are from. In various parts of the world it's a stew-like dish, a sauce with paprika, a garlicky wet rub, or a seasoning mix. The name adobo comes from the Spanish word adobar, meaning to marinate or season.
In the US though, adobo is usually referring to the seasoning blend that comes from Latin American and Caribbean cuisine.
Adobo seasoning is an all-purpose mixture of garlic powder, onion powder, oregano, black pepper, ground turmeric or annatto, salt, and black pepper. It can also contain citrus and other ingredients. It's earthy and savory, without being spicy. There are at least ten different varieties of Goya Adobo seasoning!
Though often confused with Sazon seasoning, the two very different. Sazon is a popular Puerto Rican spice blend of coriander, cumin, achiote (annatto), garlic powder, oregano, salt, and pepper.
Making Homemade Adobo Seasoning
I prefer to make my own blend of Adobo at home because most brands contain additives and preservatives that aren't needed. My recipe contains only the good stuff, plus you can customize it to suit your needs and taste.
To make the Adobo Seasoning Blend, combine the all your ingredients until well mixed. Transfer the blend into an airtight container like these glass spice jars and store in a cool, dark, dry place for up to three months.
Making a Small Batch of Adobo Seasoning
If you want a full batch of Adobo Seasoning in your pantry that you can grab and use whenever, then scroll down to make the full recipe. However, if you just want a small batch to use right now in a recipe that calls for it, or, if you just want to know approximately how much of each ingredient to add directly to something that you're cooking, I have the info for you here.
Here is how to make 2 tablespoons of Adobo Seasoning. One tablespoon is a good amount to season, for instance, 3 pounds of chicken pieces.
To Make 2 Tablespoons of Adobo Seasoning, Combine:

• 2 and 1/4 tsp. garlic powder
• 1 and 1/2 tsp. onion powder
• 3/4 tsp. dried oregano
• 1/2 tsp. black pepper
• 1/2 tsp. turmeric or annatto
• 1/2 tsp. salt

To Add Directly to the Food You're Cooking: Add garlic powder as the main ingredient. Then add half that amount of onion powder, and then half of that of dried oregano. Finally, add in a bit of black pepper, of turmeric or annatto, and of salt.
Uses For Adobo Seasoning
Adobo is so multi-purpose it can literally be used in or on anything savory. It is most popularly used as a dry rub for chicken, beef, pork, and shrimp. You can also try it in rice and beans, added to soups, and even to season burgers and French fries.
I can't wait to hear all the ways you add Adobo flavor to your dishes.
Print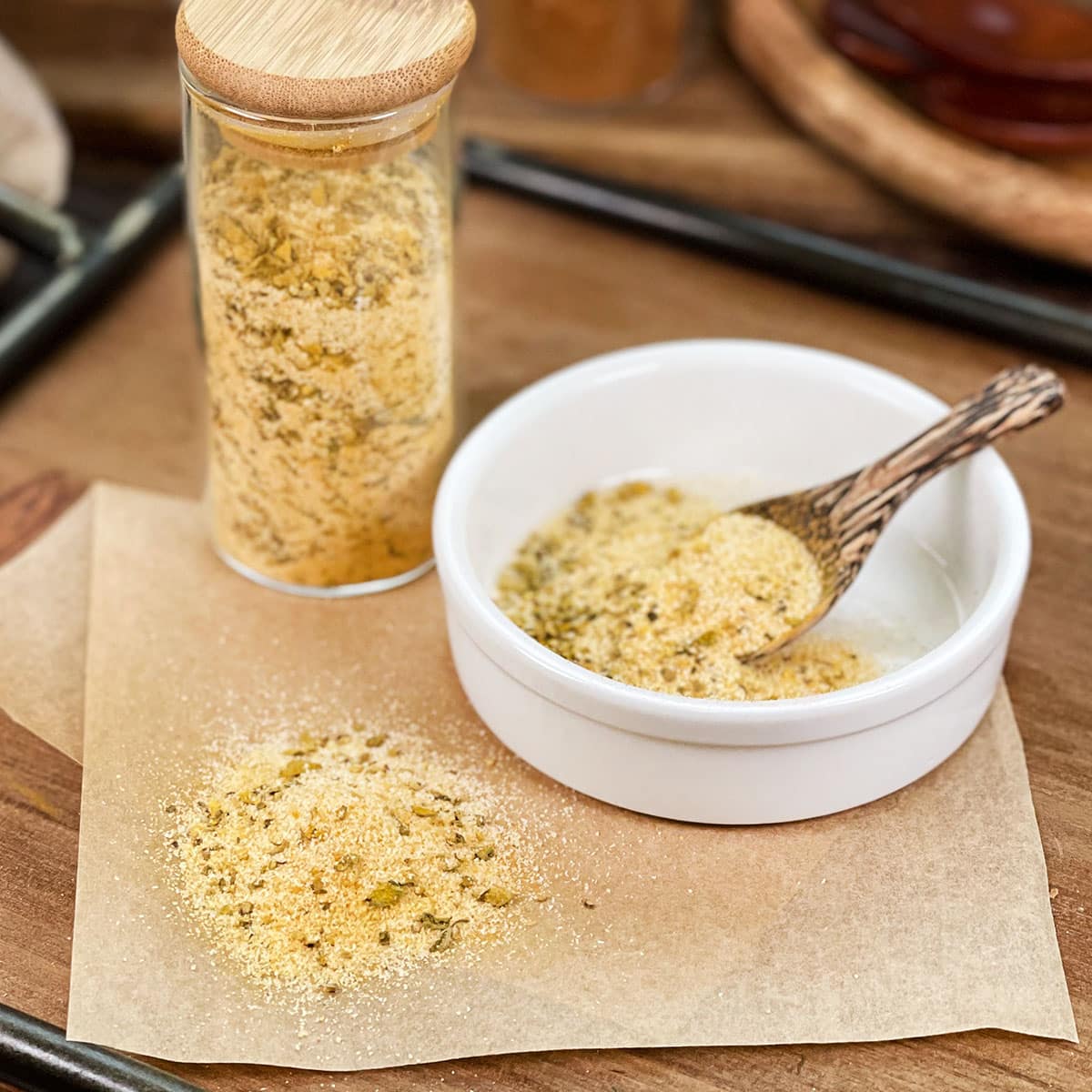 Adobo Seasoning
Contributor: Christine Pittman
Adobo is great as a dry rub for meats, seasoning black beans and rice, and so much more.
Fits into a standard (4-oz.) spice jar as written, can be easily doubled or tripled.
Author:

Prep Time:

10 minutes

Cook Time:

0 minutes

Total Time:

10 minutes

Yield:

About

4 oz

. (

1/2 cup

)

1

x

Category:

Spice Blend

Method:

Mix

Cuisine:

Latin American
3 Tbsp

. garlic powder

2 Tbsp

. onion powder

1 Tbsp

. dried oregano

2 tsp

. ground black pepper

2 tsp

. ground turmeric or ground annatto

2 tsp

. salt
Instructions
In a medium bowl whisk together garlic powder, onion powder, oregano, black pepper, turmeric, and salt until well combined.

Transfer mixture to an air-tight container. Store up to 3 months in a cool, dry, dark, place.