Skip the drive-thru and make homemade deep-fried French fries at home.
People love French fries. It's America's first choice of a side dish with a burger or sandwich. Making homemade French fries is easy. The question is do you like them fried or oven baked?
I'm comparing the two methods: French Fries: Deep Fried vs. Oven Baked so you can decide which type you would enjoy more. This recipe concentrates on the deep-fried method but I'll have more to say about the other method in the days ahead.
Making Classic Deep Fried Fries
Step #1 Cut Potatoes
Besides cleaning the potato, you need to cut the potato into french fries. There are two ways you can do this very easily. One is an actual french fry cutter like this one.  It's simple. Just place the potato in the chamber and push. Voila, you have hand-cut fries.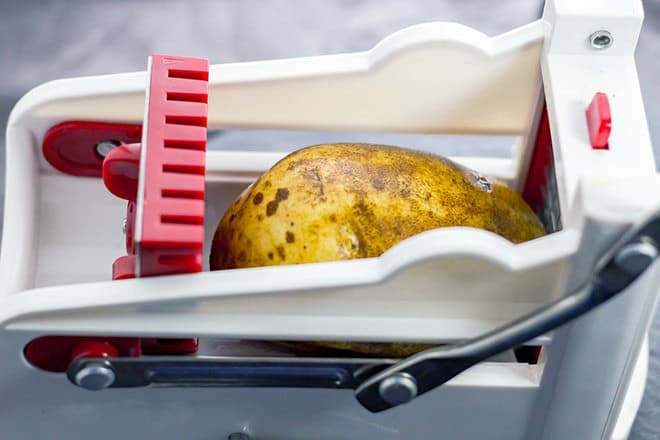 Or you can use a mandolin like this one to cut the fries. The thing with the mandolin method of cutting fries is you need to be very careful not to cut yourself on it. Either way works, it just depends on what you have in your kitchen.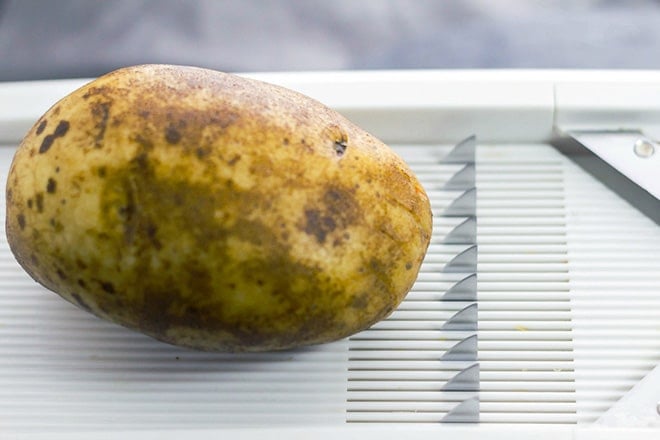 Step #2 Soak Potatoes
The next step is to soak the cut potatoes in cold water for about 2 hours. What this does is remove the potato starch for better tasting fries and it also makes them crispier. After they have soaked, blot them dry with a paper towel. Now the fun starts with making deep-fried French fries.
Step #3 Fry
Heat a pot up with oil to about 350°F.
Or, if you want to fry them but don't want to play with all the oil, an air fryer is the way to go. This one works fabulously and can be used for some many other things too. Just make sure you read the directions first if you go this route because every air fryer is different.
If you deep fry the traditional way, work in small batches. Fry the French fries for about 3-4 minutes in the oil, turning them over halfway through. Take them out and let them drain on paper towels. Season with salt while they drain.
How To Season Fries
Of course, you could keep it basic with just salt on your french fries. But since we're going to the trouble for delicious homemade fries, but not get creative?
Try Salt and Vinegar Seasoning to mimic the popular potato chips. Or how about Ranch Seasoning on your fries? You could even try Adobo Seasoning with great flavor from garlic and onion powder.
Tell me in the comments how you season your french fries!
More Fry Recipes
Not sure about the deep frying? That's okay, try one of these recipes instead.
Print
Deep Fried French Fries Recipe
Contributor: Deanna Samaan
Skip the drive-thru and make homemade deep-fried French fries at home.
Author:

Prep Time:

2 hours

Cook Time:

20 minutes

Total Time:

2 hours 20 minutes

Yield:

6

–

8

servings

1

x

Category:

Side Dish

Method:

Fried

Cuisine:

American
4

russet potatoes, cut into strips

1

quart

vegetable oil, for frying
Salt, to taste
Wash and cut potatoes then soak cut potatoes in a large bowl of water for about 2 hours. Pat dry with paper towels.
Heat oil in a deep-fryer or large saucepan to 350ºF.
Add a small amount of cut potatoes. Start with about 10 to see how your pot and oil work. You definitely do not want to crowd the fries.
Working in these small batches, fry the potatoes until tender all the way through and golden brown on the outside, about 3-4 minutes.
Use a slotted spoon to remove from the oil and transfer to a plate lined with paper towel. Sprinkle with salt immediately. Serve.
Love this recipe? I'd appreciate it if you could scroll down and add a *5 star rating* to help others know they'll love it as well!
This post originally appeared in January 2018 and was revised and republished in November 2023.