Jacket Potatoes are a classic English potato that is so crispy and delicious. Serve them as a side or make it a meal with toppings.
I've seen Jacket Potatoes on menus in pubs across England and in Irish pubs, and I always assumed they were just regular baked potatoes. Not quite! While they are similar to our air fryer baked potato or grilled baked potato, it turns out jacket potatoes follow a specific cooking method that results in a shatteringly crisp skin outside and super soft and fluffy inside. Basically, the best baked potatoes ever – and they're shockingly simple to make at home.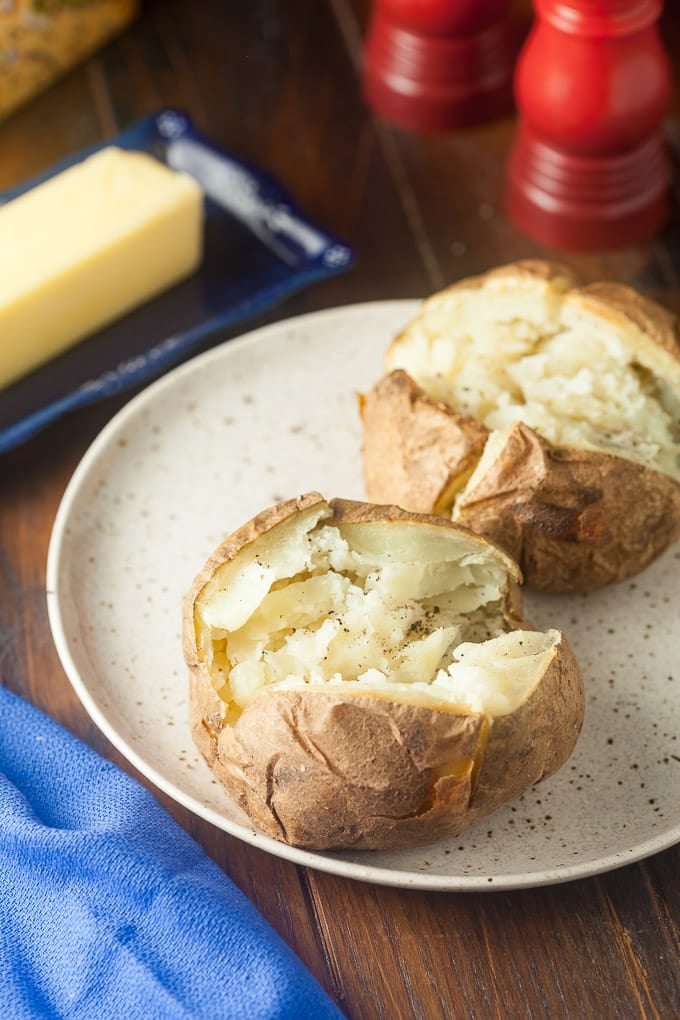 What Are Jacket Potatoes?
Jacket Potatoes are a popular fast food enjoyed across England and can be filled with a variety of toppings, .
Traditionally, they were served on Guy Fawkes night, an annual celebration held every November to commemorate the failed assassination attempt on King James I in 1605. Since then, the night has been celebrated with bonfires and fireworks. Potatoes wrapped in foil are often cooked in the burning embers and enjoyed by people celebrating the occasion.
It's been estimated that, in the mid-19th century, street vendors in London sold over 10 tons of jacket potatoes per day. While you might not see that many potatoes being sold on the street these days, they're still a popular option and there's even a chain restaurant called SpudULike that's dedicated entirely to potatoes.
The Trick To Getting Them SO Crispy
What makes Jacket Potatoes so special is their super crispy, flavorful skin that surrounds the fluffy interior like a brown jacket. They remind me of those tiny little extra crispy bits you sometimes find mixed in with French fries. So good.
The trick to achieving that crispness is in the cooking method. Using a sharp knife, cut a cross shape into the potatoes. The cuts should run almost the entire length and width of the potato and should be about 1/4 inch deep. Cutting into the potato this way will help the inside steam and will also keep the potato skin from splitting as it cooks.
Then, place the potatoes right on the top oven rack – no need for a baking sheet. This will blast the potatoes with hot air, cooking them perfectly.
Don't worry about getting fancy with things like olive oil or salt. Jacket potatoes have plenty of flavor on their own and these extras aren't needed during the cooking process. There's also no need to wrap the potatoes in aluminum foil, which causes them to steam and results in a less crispy skin.
All you need is high heat and time.
How long do you cook them? The recipe below says 1 hour. But since we're cooking them at 400F, instead of the often-used 450F for American-style baked potatoes, they can actually stay in there for longer without burning. If you want extra crispy skin, leave them in for as long as 2 hours. Yes, really!
The Best Potato Toppings
Jacket Potatoes are delicious on their own with a pat of butter and a sprinkle of sea salt and black pepper, but they're frequently used as the base of a meal and can be filled with all sorts of delicious toppings. Slice along your initial cuts again when you take it out of the oven, push the ends of the potato together (while protecting your hands), and it's ready for toppings!
Popular British topping ideas include:
Chili
Baked beans
Tuna salad
Chicken tikka
Coleslaw
Of course, toppings like sour cream and chives, bacon bits, and cheese are also popular.
Get more great potato recipes, check out our Potato series!
Print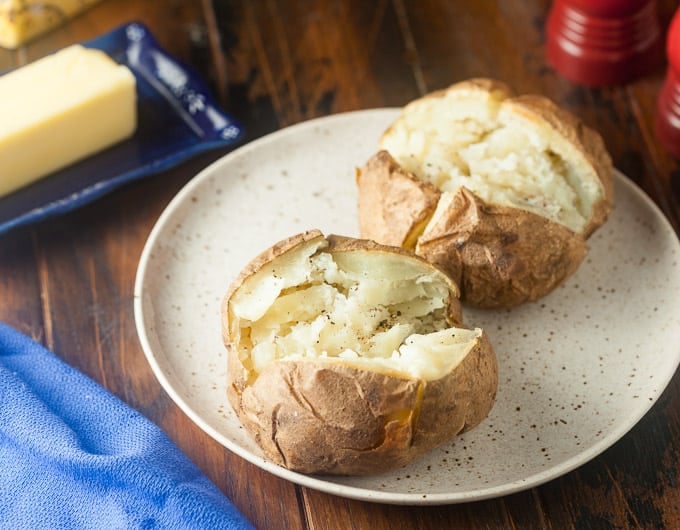 Jacket Potatoes
Contributor: Lauren Keating
Jacket Potatoes are a classic English potato that is so crispy and delicious. Serve them as a side or make it a meal with toppings.
Author:

Prep Time:

5 minutes

Cook Time:

1 hour 30 minutes

Total Time:

1 hour 35 minutes

Yield:

4

servings

1

x

Category:

Side Dish

Method:

Baked

Cuisine:

English
4

medium Russet potatoes
Toppings of your choice (chili, tuna salad, bacon and cheddar cheese, etc.), for serving
Instructions
Heat your oven to 400°F.
Scrub the potatoes well then pat them dry.
Using a sharp knife, cut an X across the top of each potato by making a ¼-inch deep incision from one end of the potato to the other lengthwise, then making a second cut across the center of the potato.
Place the potatoes on the top rack of the oven and bake for 1 hour to 1 hour and 15 minutes (or as long as 2 hours, for extra crispy skin), until the potato skins are very crispy and the insides are soft.
Remove the potatoes and very carefully pop the potato open by cutting into the cross again to reopen it, then pushing the opposite ends of the potato toward each other (wear oven mitts to protect your hands when handling the hot potatoes).
Return the potatoes to the oven and cook an additional 15 minutes.
Fill with your favorite toppings.