Baked Potatoes on the grill are the perfect solution when you're craving one but it's too hot outside to turn the oven on.
Grilling your baked potato is completely hands off and results in a perfectly flavorful and fluffy baked potato. It's also perfect if you want to grill a steak and make a baked potato to go with it.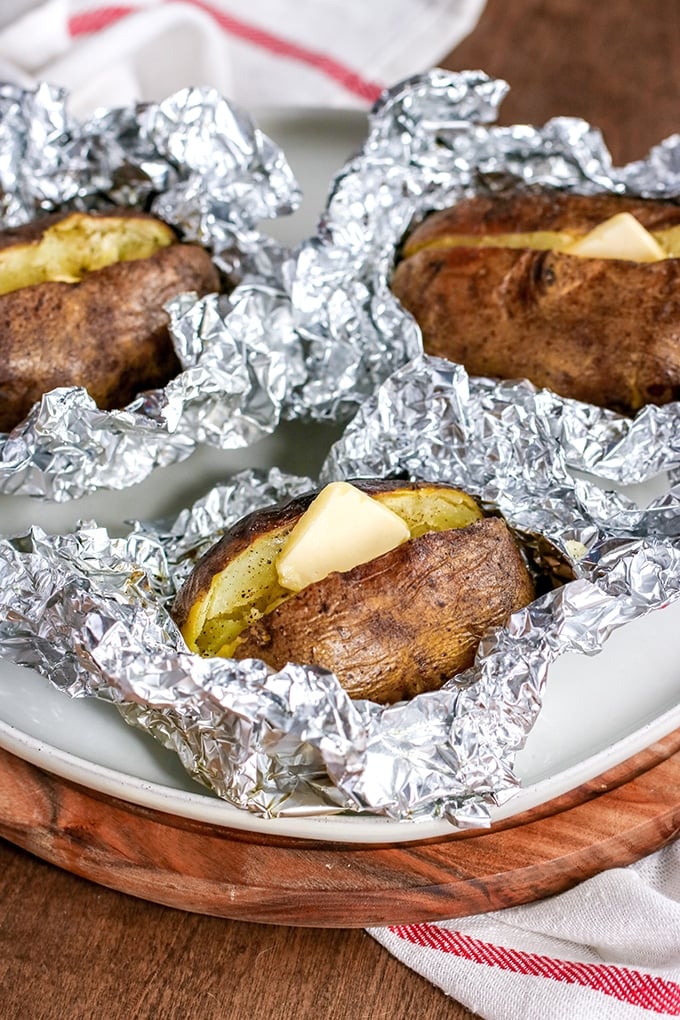 Do potatoes need cooked on direct or indirect heat?
Wrap the potatoes in foil and place them on the indirect heat side of your grill. Grilling with indirect heat means you're cooking on the cooler side of your grill rather than over the flame or heat source. This will ensure the inside is slowly cooked without over cooking it and drying it out.
To finish the potatoes, unwrap the potatoes from the foil and put them on direct heat to help crisp up the skin as well as give it a great BBQ flavor.
How long should you grill them?
This really depends how high your grill temperature is but I get the best results with the grill set at 350°F for 1 hour over indirect heat. This helps it cook slowly so the entire potato is cooked, resulting in a fluffy middle.
You'll want to be sure to finish the potato over direct heat to get the skin crispy.
What if you don't have an hour to bake the potato?
You can try out this great Air Fryer Baked Potato recipe that takes just a fraction of the time. Another option is to actually microwave the potato to cook it, cut it in half, and finish it off with oil, salt, and pepper then place it directly over the heat to crisp the skin as the meat finishes to give it that BBQ flavor.
Do you need to use foil?
Yes! The foil helps keep the steam and heat inside the potato to cook it through completely. We recommend using heavy duty or grill foil so it doesn't rip when placed on the grill or when you use tongs to flip them over.
How can you tell the potato is done?
Use a fork or a steak knife and stick it through the thickest part of the potato. If it's easy to get to the center of the potato with very little resistance, you're all set. If it takes a little effort or you can't get to the middle of the potato, you'll want to cook it a bit longer.
An instant read thermometer is a great tool to use to determine this as well! You're shooting for a temperature in the middle of the potato around 210°F for it to be completely done.
Print
Baked Potatoes on the Grill
Contributor: Sam Ellis
Baked Potatoes on the grill are the perfect solution when you're craving one but it's too hot outside to turn the oven on.
Author:

Prep Time:

5 minutes

Cook Time:

70 minutes

Total Time:

1 hour 15 minutes

Yield:

4

servings

1

x

Category:

Side Dish

Method:

Grilled

Cuisine:

American
4

russet potatoes

4 Tbsp

. olive oil
Salt, to taste
Pepper, to taste
Butter, to serve
Instructions
Preheat the grill to a medium-low heat, around 350°F.
Prepare the potatoes by poking each with a fork 5-6 times, drizzling with 1 tablespoon of olive oil, and sprinkling salt and pepper on top. Make sure the whole potato is covered.
Wrap each with foil.
Bake for 1 hour, flipping once halfway through.
Unwrap each potato and put directly on the grill for about 10 minutes to crisp up the outside.
Carefully cut in half lengthwise and serve with butter.