Breakfast sausages are such a delicious part of breakfast, and now you can make your own! We give instructions for with and without special equipment, so you can jump in and start making them today!
I really love breakfast sausages. I especially love making my own. The reason is that I can control what goes into them. I can decide one what seasonings to use, and also on what kind of meat and the quality of the meat.
The recipe below calls for ground pork. You can grind your own if you have a meat grinder. This one is a grinder and sausage stuffer that attaches to a KitchenAid Mixer.  You can instead use pork that is purchased already ground from the grocery store. Or, you can mix together pork and turkey, or any other kind of ground meat. It's really up to you. That's why making homemade sausages is so great. You really do have complete control of the ingredients!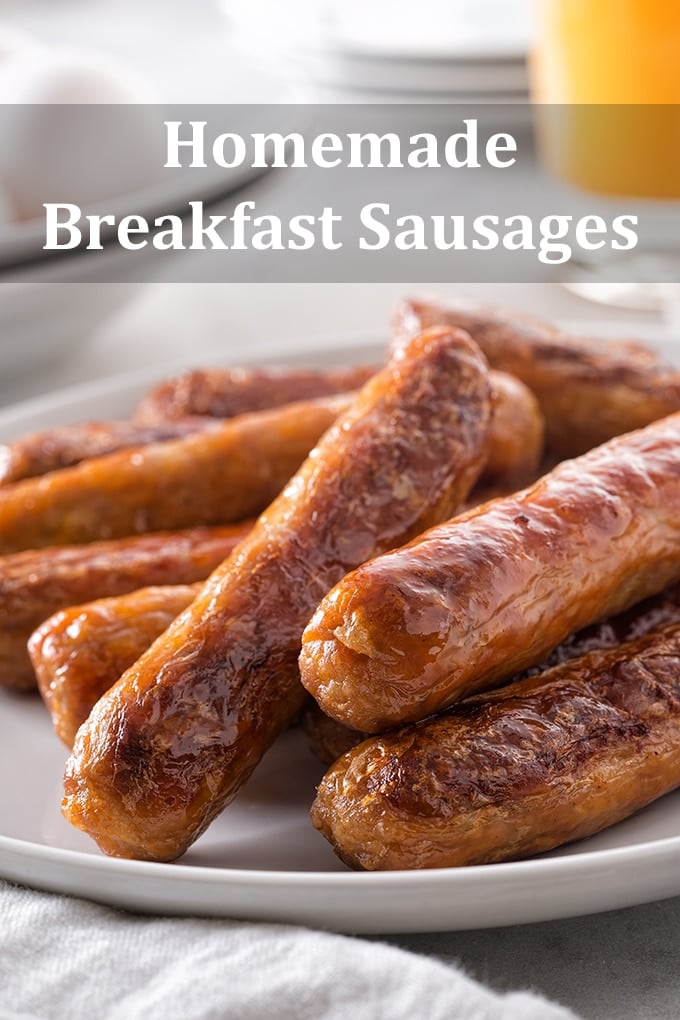 How To Make Homemade Sausage Meat
To begin, you're simply going to mix together the ground meat with seasonings and water. The water might seem odd but what it does is to make the mixture sticky so that you can shape it well.
As mentioned, you can grind your own meat or you can buy already-ground meat at the store. As to the seasoning, there are a couple of options. You can buy an already mixed sausages seasoning like this online, or at your local butcher supply store. If you've never been to a butcher supply store, it's worth checking out. They have all kinds of interesting ingredients and equipment. Also, the people working there are usually really knowledgeable about making sausages. If you're someone who likes to find an expert and ask a lot of questions, you'll really enjoy this.
Alternatively, you can make your own sausage seasoning. This is our recipe for breakfast sausage seasoning. It contains brown sugar, sage, thyme, garlic, red pepper flakes, salt, and a touch of cloves. It's a really nice mixture with a bit of heat and bit of sweet, and lots of nice savory notes.
Whatever seasoning you choose to use, make sure to read the instructions about how much to use. Each brand and recipe will specify a different quantity of meat and you want to make sure that you get that right. Our seasoning recipe specifies that it is for 5 pounds of ground pork. If you're using 2.5 pounds of meat, you'd use half of the mixture that you make.
If you're not sure about the amount of seasoning to use and want to be extra careful, we walk you through a technique for testing the seasoning of sausage meat over here.
How To Shape Sausage Meat
If you're going to use the sausage meat to make sausage patties, head over here to our simple technique for making uniformly-sized patties quickly and easily.
If you want to make sausage links, you have two options. One option involves no special equipment at all. The other involves the use of a sausage stuffer.
How To Make Sausage Links Without A Sausage Stuffer
To make breakfast sausage links without a sausage stuffer, you're going to follow the detailed instructions over here.  To give you the idea though, what you'll be doing is taking two pieces of plastic wrap and overlapping them so that you have a nice thickness. Then you scoop a handful of the sausage meat mixture onto the plastic wrap. Shape the meat into a cylinder that is the length and diameter that you'd like your sausage to be. Then wrap it in the plastic wrap, burrito style. Wrap it nice and tight. Then, wrap that in aluminum foil. Repeat this with all of your sausage meat. Then put them into a single non-overlapping layer on a tray in the fridge. Let them sit there for 1-2 days. The tight wrap and the cold will form your sausages in a way that keeps their shape.
When you're ready to cook your sausages, unwrap them from the foil and from the plastic. You'll have nice sausage-shaped cylinders of meat that you can then cook following the instructions below.
How To Make Sausage Links With A Sausage Stuffer
Whether you have a Hand Crank Sausage Stuffer, or a KitchenAid Attachment, you should read the instructions that came with your equipment, and buy the casings that they recommend in terms of size and material. We use collagen casings, like these. Or instead, use these ones which are not collagen but are the thinner size that you'd want for breakfast sausages.
It's a good idea to read the instructions on the casings that you get as well. If they don't have instructions, read the reviews on Amazon. You'll find out if you need to wet the casings first, and also good info about how to cook the sausages so that they don't split.
As mentioned, you should read the instructions on your sausage-stuffing machine. But basically, you'll be putting your ground meat and seasoning mixture into the sausage stuffer meat compartment. Then you'll put the casing on the tube that the meat comes out of. Finally, you'll control the meat coming out using the hand crank or it will be done by the machine. Your task is to control how much casing you're feeding at a time to get an even thickness of sausage into the stuffing. Do not overstuff the sausages. This can lead to the casings splitting while you're stuffing them, or even later when you try cooking them.
Be aware that feeding the meat into the casing takes some practice. You need to get a feel for how much meat passes through, and then you need to twist the casing (squeeze the meat through the casing to make a good indent, then twist the casing) so that you have individual sausages and not one long continuous sausage.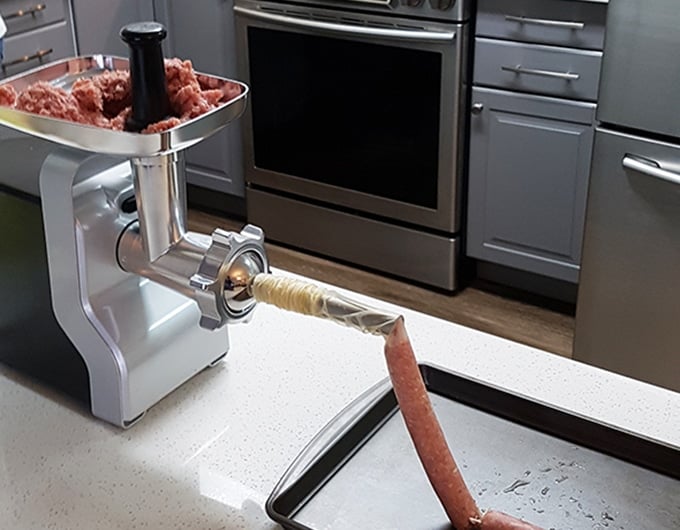 With some practice, you'll get good at it. And know that those first misshapen sausages that you make will still be tasty. And, you should definitely take a picture of those ones because it's an accomplishment that you've gotten this far! You'll be able to compare them to later sausages, even sausages that you make later the same day, to see how far you've come.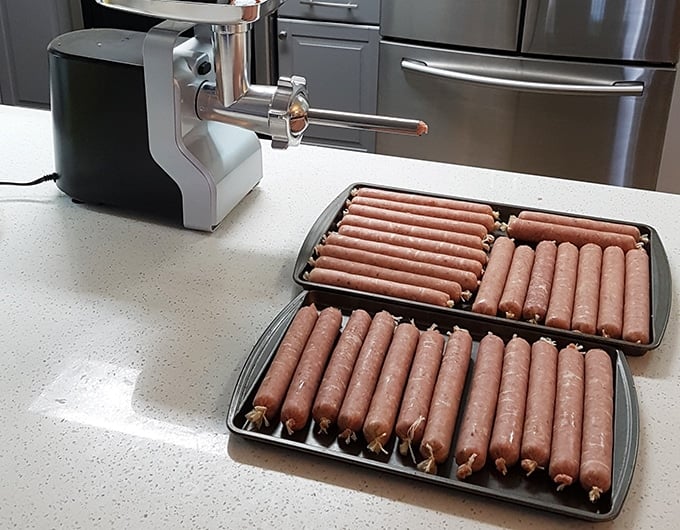 How To Cook Breakfast Sausages
Once you've made your sausages, it's time to cook them.
You can cook them in a skillet over medium heat. Put them in the warmed skillet in a single non-overlapping layer. Cook until browned underneath and then turn them. Continue to turn them as they brown until they're browned in many places and are no longer pink inside, 6-8 minutes.
Alternatively, you can cook them in the air fryer like this. But since breakfast sausages are thinner than the Italian sausages in that recipe, you will only need to cook them for about 7 minutes, just until browned all over but no longer pink inside.
And there you have it! Homemade breakfast sausage links! I hope you really enjoy making these, and eating them too!
Barry 🙂
Print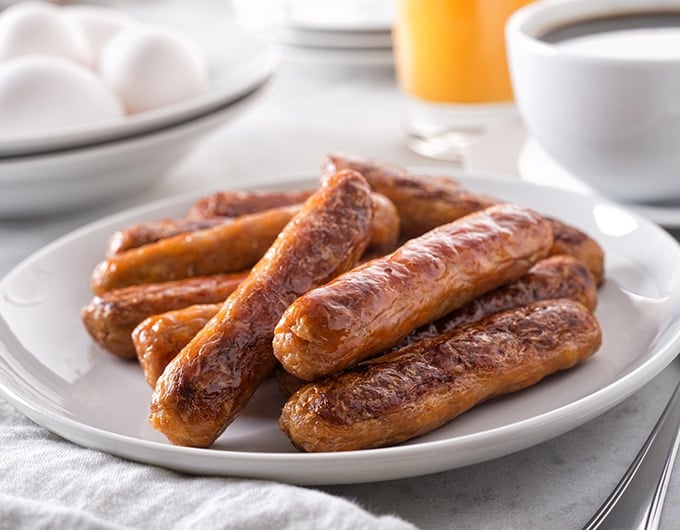 Homemade Breakfast Sausages
Contributor: Barry Pittman
Breakfast sausages are such a delicious part of breakfast, and now you can make your own! We give instructions for with and without special equipment, so you can jump in and start making them today!
Author:

Prep Time:

40 minutes

Total Time:

40 minutes

Yield:

20

servings

1

x

Category:

Entree

Method:

Stir

Cuisine:

American
2

and 1/2 lbs. ground pork

0.8 ounces

(by weight)* sausage seasoning (buy here or make your own)

1 cup

water
Notes
*You can buy different sausage seasoning mixtures but be sure to read the instructions on the seasoning packet to see how much to use with 2 and 1/2 pounds of meat as it will vary from brand to brand. The homemade sausage seasoning recipe that we've linked to is for 5 pounds of meat. That means that you will use half of the seasoning mixture when making the above recipe, which will be about 3 and 1/2 tablespoons. If you're unsure about the amount of seasoning to use, you can find good instructions here for how to figure out how much seasoning you need when making sausages.