Italian sausages are easy to make at home. The best part is that you get to customize them to your own taste! We give you instructions for making them without any special equipment, and for if you do have sausage-making equipment.
Italian sausages are really delicious, and they're a great way to begin your sausage journey.
One of the best things about making your own sausages like this is that you can customize them to what you like. If you don't like fennel seed, don't use that in the seasoning blend. If you like your sausages spicy, use lots of red pepper flakes. You see how this goes? But it's not just the seasonings that you have control over. You control the meat too. You can use all pork (as we have in the recipe below), or you can use half turkey, or all turkey, or you can add some ground beef. Whatever you want, you can do. How great is that?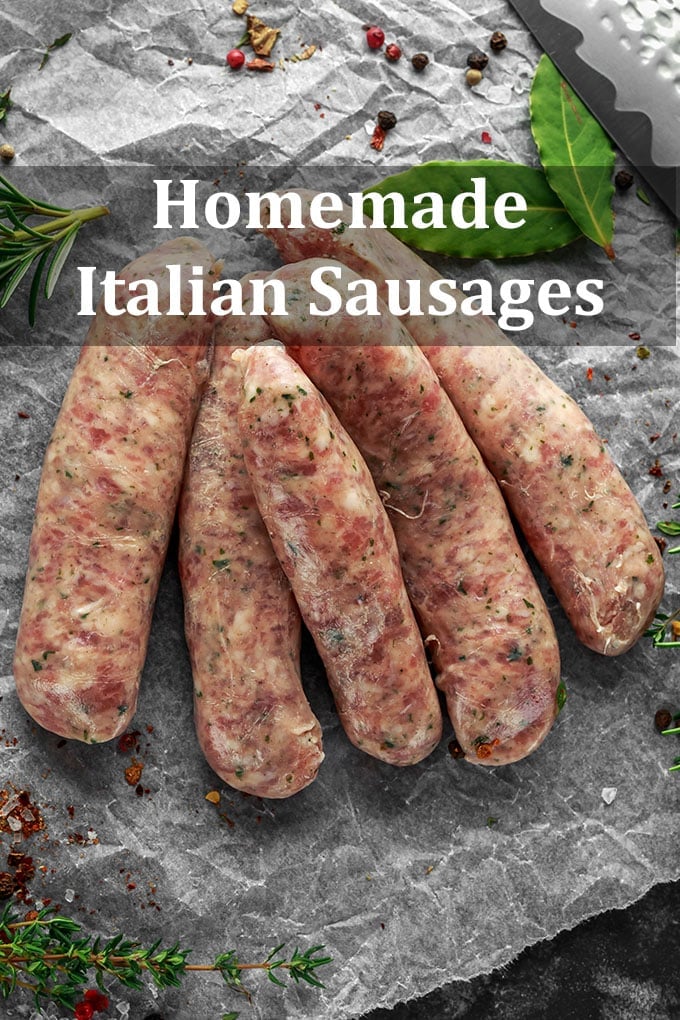 The other reason to make your own Italian sausages is that you know exactly what's in them. You've chosen the spices, you've chosen the meat, and you know that you haven't added anything else. That's really great if you're on a gluten-free diet or if you're trying to control your salt intake. Anything like that, you can make sure of when you make your own sausages. So let's dig in and learn how to make Italian sausages!
How To Make Italian Sausages
To begin, the recipe at the bottom of this post assumes that you have a sausage-stuffer. But you don't need one. Instead, you can follow the instructions over here for making sausages at home without special equipment.
What is involved in making sausages without special equipment? It's actually really easy!
How To Make Italian Sausages Without Special Equipment
You should definitely go read the full instructions, but I think you'll understand the idea from here.
You're going to mix up your meat mixture in the same way whether you're using a sausages stuffer or not. Note that we're talking about fresh Italian sausages here so we aren't using any kind of curing agent. It's just the ground pork and the Italian Sausage Seasoning Blend.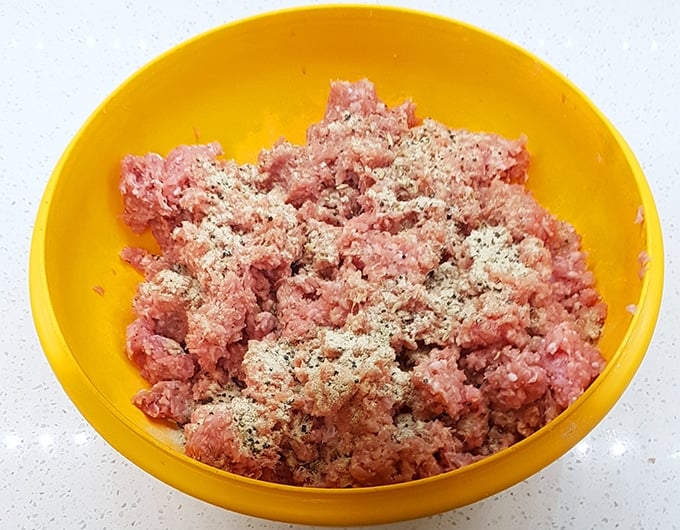 Next, what you do is to cut two large pieces of plastic wrap. You need the pieces to be 6 inches longer than your desired sausage length.
Now you lay the plastic wrap one piece on top of the other so that they overlap, giving you more plastic to roll your sausage in. What we mean is that they should overlap in a way that gives you extra width to roll around the sausages, not extra length.
Take a handful or two of your meat mixture and place it on your plastic wrap. Shape the mixture into the length and diameter of an Italian sausage, adding more meat or taking some away, as needed.
Now roll up your sausage burrito-style, bringing the extra 3 inches on each edge towards the middle, and then rolling the sausage up tightly in the plastic wrap.
Roll the plastic-wrapped sausage in aluminum foil. Repeat with remaining meat wrapped into individual plastic wrap and foil rolls.
Refrigerate your wrapped meat for 1 to 2 days. The tight wrap of the meat, plus the refrigeration allows the sausage to retain its shape later when we unroll it and cook it.
When you want to cook up your homemade Italian sausages, you will unroll them and then cook them however you cook Italian sausages. See more below on how to cook them.
Note that you can alternatively unroll them and then freeze them in a single layer on a tray. This is so that they don't stick together while freezing. Once they're frozen, transfer them to a freezer bag and put them back into the freezer until you want to use them. Since you frozen them individually, you'll be able to pull out as many as you need from the bag. If they stick together a little bit, bang the bag lightly on the counter to dislodge them.
How To Make Italian Sausages With A Sausage Stuffer
Whether you have a Hand Crank Sausage Stuffer, or a KitchenAid Attachment, you should read the instructions that came with your equipment, and buy the casings that they recommend in terms of size and material. We use collagen casings, like these.
As mentioned, you should read the instructions on your machine. But basically, you'll be putting your ground meat and seasoning mixture into the sausage stuffer meat compartment. Then you'll put the casing on the tube that the meat comes out of. Finally, you'll control the meat coming out using the hand crank or it will be done by the machine. Your task is to control how much casing you're feeding at a time to get an even thickness of sausage into the stuffing.
Be aware that feeding the meat into the casing takes some practice. You need to get a feel for how much meat passes through, and then you need to twist the casing (squeeze the meat through the casing to make a good indent, then twist the casing) so that you have individual sausages and not one long continuous sausage.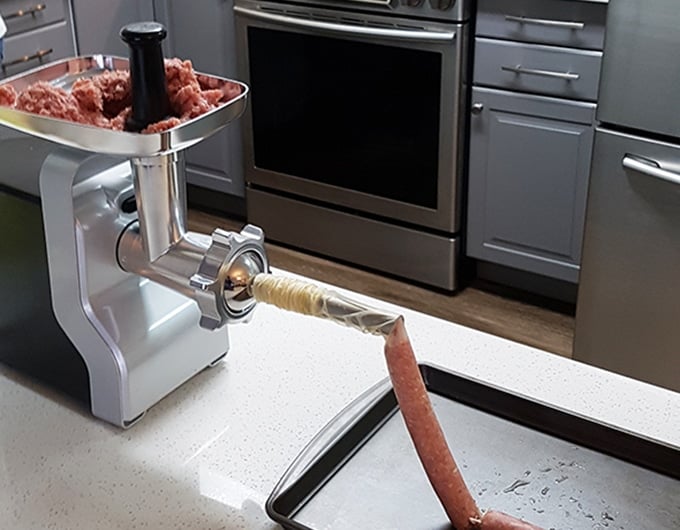 With some practice, you'll get good at it. And know that those first misshapen sausages that you make will still be tasty. And, you should definitely take a picture of those ones because it's an accomplishment that you've gotten this far! You'll be able to compare them to later sausages, even sausages that you make later the same day, to see how far you've come.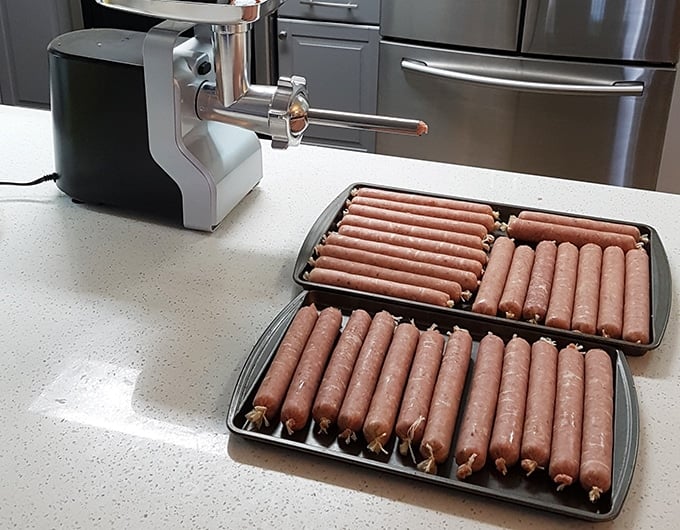 How Much Seasoning To Add To The Ground Meat
The recipe below gives the weight of the Italian sausage seasoning. That's because it's traditional to do sausage ingredients by weight. Weighing things is more exact than using measuring spoons. When it comes to sausage seasoning though, things don't have to be as exact.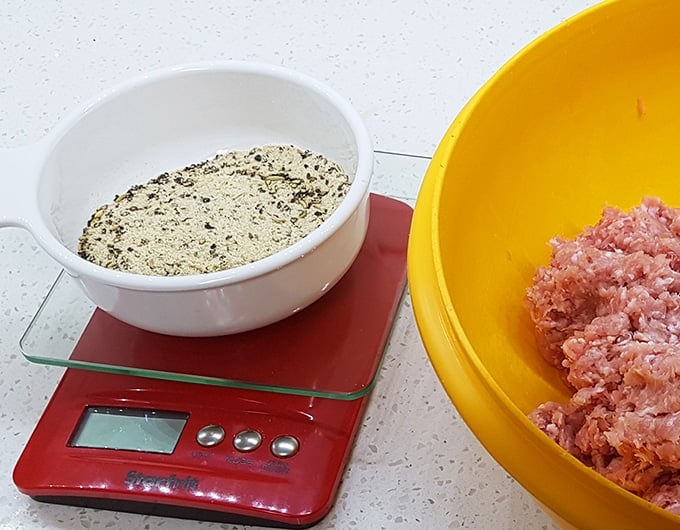 If you don't have a kitchen scale like this to measure your seasoning with, here's what to do instead:
Start with ¼ cup of the seasoning added to 5 pounds of meat. That's what it worked out to when I did the conversion at home.
Mix it into the meat.
Take about 2 tablespoons of the meat and form it into a small patty.
Put that patty onto a microwave-safe plate and then microwave it for 5 seconds at a time until it is no longer pink in the middle. This won't take long.
Let it cool and then taste it.
If it tastes nice and flavorful, stop there and proceed with whatever you have planned for your sausage meat. If it isn't seasoned enough, add another 2 tablespoons of seasoning, mix, and then repeat the microwave test.
This microwave technique is great for assessing the salt level and the spiciness of your seasoning also. Not all Italian seasonings and Italian sausage seasonings are the same, and not all of our taste buds are the same either. You can adjust how much salt by adding extra salt to your meat mixture, and you can adjust how spicy it is by adding more crushed red pepper flakes. Then test in the microwave to see if it's where you'd like it to be.
How To Cook Your Homemade Italian Sausages
Once your sausages are formed, whether in plastic wrap or in casings, you will need to cook them before you eat them. There are several ways to do this.
My favorite way to cook sausages is in the air fryer, like this.
Alternatively, you can put them on an oven-safe rack over a baking sheet and cook them in an oven set to 450F until browned on the outside and cooked to at least 165F on the inside (as read on an instant-read thermometer). Using the rack over the pan allows the fat and juices to drip down so that the sausages aren't swimming in the fat. Having the air circulate all around them also allows them to brown more evenly.
Finally, you can cook them in a skillet. Heat the skillet to medium and add your sausages, being sure to not crowd the pan. Cook, turning occasionally, until well browned on the outside and at last 165F on the inside. This takes about 12-15 minutes.
I hope you've enjoyed learning to make Italian sausages at home!
Have a great day!
Barry
Print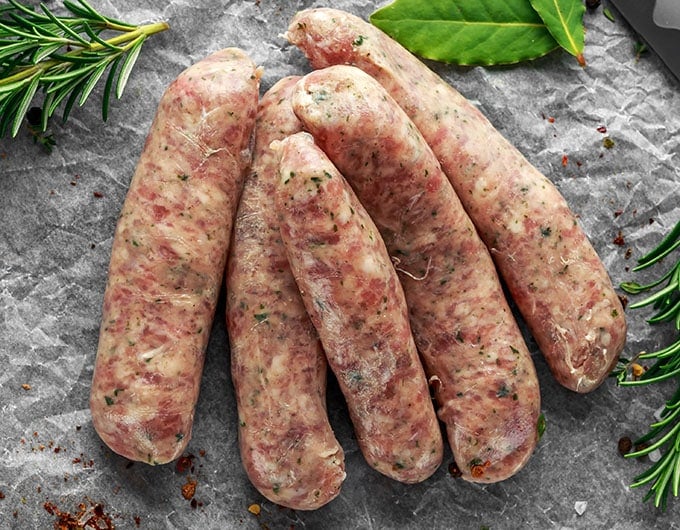 Homemade Italian Sausages
Contributor: Barry Pittman
Italian sausages are easy to make at home. The best part is that you get to customize them to your own taste! Simply add or remove seasonings from the seasoning mixture, or to the ground meat, to get it how you'd like it.
Author:

Prep Time:

40 minutes

Cook Time:

0 minutes

Total Time:

40 minutes

Yield:

20

servings

1

x

Category:

Entree

Method:

Stir

Cuisine:

Italian